Support System
A franchisee-friendly formula and a bundle of fast-casual concepts position Raving Brands for national growth.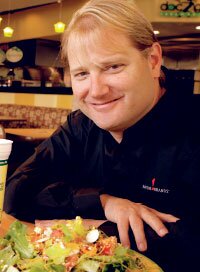 Chairman and CEO Martin Sprock launched Raving Brands with one mission: to be kind to franchisees. With 465 units across eight brands, the company expects to grow unit totals to 1,200 to 1,500 by 2008 with the help of franchisees.


In 2003, Raving Brands entered into a joint-venture agreement with Shane's Rib Shack, which has an average unit volume of $950,000.


In 2005, Raving Brands developed Boneheads Grilled Fish and Piri Piri Chicken, which specializes in dishes grilled with piri piri, a South African pepper.


Raving Brands leverages Moe's Southwest Grill and Doc Green's to secure A locations for its other concepts.
Raving Brands has no formal expansion plans. Its eight brands grow catch as catch can, albeit overwhelmingly in A locations. It has no corporate office and no nationwide marketing strategy. Raving Brands has only one company-owned store for each of its brands: Moe's Southwest Grill, Mama Fu's Asian House, Monkey Joe's, Doc Green's Gourmet Salads, Boneheads Grilled Fish and Piri Piri Chicken, PJ's Coffee, Planet Smoothie and Shane's Rib Shack.
Yet the Atlanta-based company has made such seeming disorganization work, and work well. Chairman and CEO Martin Sprock launched Raving Brands in 1998 with one Planet Smoothie; the company now has about 500 locations across eight concepts. Another 200 will open by the end of this year—a figured based on signed leases, Sprock says, not on franchise agreements—and unit totals could reach 1,200 to 1,500 by 2008.
Its eight brands cover most segments in the fast-casual arena. This year's purchase of a breakfast concept called Flying Biscuit and the creation of a yet-unnamed pizza concept will make that coverage complete.
Raving Brands has "good positioning, and the brands have good consumer appeal," says Darren Tristano, managing partner at Technomic Inc., the Chicago-based foodservice research firm.
But the collection of concepts could prove unwieldy as the company grows. "When you have 10 different concepts to make successful, it's inevitable that some will do worse than others," Tristano says. "Companies tend to put more energy behind the brands that are doing well."
Sprock disputes the notion that every brand has to be a star. "Some brands will do better than others," he says. "We have brands that won't be superstars, and that's OK. At the end of the day, we don't have a brand we consider not successful."
Looking for a Better Way
Sprock, 40, founded the company with a mission: to be kind to franchisees. After college, he and some friends expanded a bar business, Clarence Foster's, in Atlanta and other Southeastern cities. Soon discovering that "counting money and drinking tequila really don't go well together," he investigated a few restaurant franchises.
He was not impressed. The companies he talked with "were out to get me at every turn," he says, alluding to Draconian contracts, an abundance of fees and not much operational support. One contract specified a $500 charge for a lost recipe book. "They said it was to punish people who lost the book," Sprock says.
The experience inspired him to launch Planet Smoothie and also try another way of franchising. "I thought, 'Let's be the good guy,'" Sprock says.
He opened 10 Planet Smoothie units in Atlanta in time for the 1996 Olympic Games; he says that due to political maneuverings in the city, all but two closed. The chain has since grown to 125 units with an average unit volume of $275,000.
In 2001, Sprock approached a Mexican concept with the intent of buying it. When the seller balked, Sprock launched Moe's Southwest Grill, focusing on burritos. With 288 units open and 125 more scheduled to open this year, it is Raving Brands' biggest concept. Average unit volumes at Moe's have risen steadily to $860,000 in 2005 from $760,0000 in 2003. Units in Atlanta, the brand's most saturated marked, do well over $1 million a year, Sprock says. He adds that same-store sales have risen by
12 percent to 14 percent over the past three years, and that average store profitability hovers around 16 to 18 percent; some stores net as high as 30 percent.
In 2000 Sprock entered into a joint-venture agreement with PJ's Coffee, a 28-year-old New Orleans-based concept that roasts its own beans. Raving Brands has since purchased the concept.
Sprock developed Mama Fu's Asian House in 2002-2003 and entered into a joint-venture agreement with Atlanta-based Shane's Rib Shack during that time as well. "They were doing $2.2 million in 1,200 square feet," Sprock says of Shane's.
Raving Brands developed Doc Green's and Boneheads Grilled Fish in-house and opened both in 2005. Doc Green's, a build-your-own salad and sandwich bar, bills its menu as "as healthy as you want to be." Boneheads features chicken and fish grilled with piri piri, a South African pepper.
Also in 2005, Sprock inked a joint-venture agreement with Monkey Joe's, a children's concept with play areas and snacks, from founders Mel Silverman and Joe Wilen. Fourteen units are expected to open this year.
And earlier this year, Raving Brands agreed to buy Flying Biscuit, a two-unit Atlanta-based breakfast concept featuring turkey sausage, organic greens and other trendy items. "It's so killer," Sprock says.
The brands share many qualities. All are fast casual, with checks at or less than $10. The menus offer both healthful and indulgent items. Sprock, who has two young children, says all the brands are kid-friendly. The stores do not use MSG, and he recently swapped Moe's popular tri-color tortilla chips for a dye-free chip. "We're taking a risk, taking a chance to be more on the cutting edge," he says.
And while all sport hip interiors, the average buildout cost is $400,000, "literally half the cost of our major competitors," Sprock boasts. Perhaps not: Tristano calls the buildout "not exactly low," but suspects that Raving Brands' unit volumes produce a fast return on investment.
That well may be the case. Raving Brands just signed a major financing deal for Moe's. The financing, through Wells Fargo Bank, will fund general expansion plus the acquisition of regional brands to convert to Moe's, says Steve LaMastra, president and COO of Raving Brands. The financing "is imperative for the size of the system," LaMastra says.
The outright purchase of Flying Biscuit also speaks to the company's financial future, LaMastra says. "This shows a more aggressive posture in the acquisition marketplace, and it demonstrates that we're not afraid to buy an operating company and operate those units," he explains.
Franchising with a Twist
As he bought and created concepts, Sprock fashioned a franchise system that's different from most in the restaurant industry. According to Raving Brands' Uniform Franchise Offering Circular, the company can charge for store openings, but Sprock says it does not. An all-company team provides services such as real estate and other operational support, as well as the services of brand-specific opening teams, gratis.
Cary Chastain, who franchises five Moe's and one Mama Fu's in Charleston, S.C., welcomed the free help when he opened his first location, a Moe's, in 2002. "They were down here three times to help me get opened," Chastain says of Raving Brands' opening team. "I kept dropping the ball, and they did everything they could." Chastain plans to open two more Moe's, one Shane's, two Doc Green's and one Mama Fu's, over the next 18 months.
SNAPSHOT
Company
Raving Brands
Headquarters
Atlanta
Concepts
288 Moe's Southwest Grill, 125 Planet Smoothie, 38 PJ's Coffee, 23 Mama Fu's Asian House, 19 Shane's Rib Shack, 7 Doc Green's Gourmet Salads, 4 Monkey Joe's, 3 Boneheads Grilled Fish and Piri Piri Chicken, 2 Flying Biscuit
2006 Systemwide Sales
$490.8 million (company estimate)
Units
38
Average Check
$10 or less for each concept
Expansion Plans
715 total units in 2006
Not charging for opening services costs the company: Sprock says a would-be investor told him the practice costs Raving Brands roughly $17 million a year. But that could change as Raving Brands grows. "As he gets bigger, he might not be able to afford that," Tristano says.
Again, Sprock begs to differ. "We've been through the hump of barely being able to pay bills," he says. "The bigger we get, the leaner we'll make ourselves for franchisees."
Raving Brands also helps out franchisees with leases. The company signs leases for A-list locations, keeps them on the company's balance sheet, and then gives—not subleases—them to franchisees who need them. Such largess "creates a real partnership" and a chain with a preponderance of A-location restaurants. Sprock says the strategy is necessary because franchisees won't do well in B locations.
Giving leases to franchisees is indeed rare, says Susan Kezios, founder of the American Franchisee Association, a franchisee advocacy group based in Chicago. "A lot of companies won't do that because they don't want the risk," Kezios says. She adds that companies also sublet to franchisees because it's easier to evict them as tenants than to terminate the franchise agreement. "I've found [subleases] used in insidious ways," Kezios says.
Fixing to Grow
While six of the eight concepts are thriving from his franchisee-friendly formula, Sprock characterizes two, Planet Smoothie and Mama Fu's, as "tough brands." To make Planet Smoothie more competitive with beverage giant Jamba Juice, Raving Brands is testing co-branding efforts with Nestle Tollhouse cookies and Edy's Ice Cream. So far, the effort has boosted sales at a unit in Atlanta's Phipps Plaza to $400,000 from $225,000 annually.
Mama Fu's, a 23-unit Pan-Asian concept, is "ahead of its time. …Asian concepts are still a tough sell," Sprock says, mentioning Scottsdale, Ariz.-based Pei Wei as the exception to the rule. He hopes a test menu of fusion items and full service at night, to boost wine sales, will revive the flagging stores. Mama Fu's averages unit sales of $970,000, but "half the stores are successful and half are struggling," Sprock says.
He's also honest about PJ's position in the specialty-coffee segment. "If PJ's went head-to-head with Starbucks, they'd lose most of the time," he says. Raving Brands is experimenting with a wine bar in some units; so far the units with wine bars are averaging $550,000 vs. $425,000 for the coffee-only units.
Still, Raving Brands can leverage its successful concepts to secure A sites for its struggling brands. By offering to fill endcaps with Moe's and Doc Green's, it can usually persuade landlords to hand over a prime inline space, Sprock says.
Such tactics are helping Sprock to create a 1,000-store franchise system without franchise advertising. Raving Brands has already hired a marketing director, a public-relations firm and an advertising agency. All are meant to prepare the brands to compete nationally, which to date, they have not: Many stores are concentrated in the Southeast.
These days, Sprock has "a little hand in a lot of things," but likes to handle real estate and loves to work with franchisees. "He's always made time to address my concerns," says John White, a Raleigh, N.C.-based franchisee with three Moe's and a fourth under construction. "The relationship [with Raving Brands] is great," White says.
Seeing that Sprock founded the company to be franchisee friendly, his interest in working with franchisees is hardly surprising. "The only reason we're successful is if our franchisees are successful," he says. "We have to make it work."