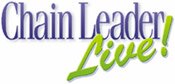 What sponsors say about Chain Leader LIVE 2004
---
Cheryl Isberner, Business Development Leader, Foodservice Division, Land O Lakes
LOL, youíre a sponsor of this event, can you tell us the benefits of your sponsorship?
Key benefits:
As the title sponsor of the Chain Leader LIVE event, Land OíLakes had the opportunity to build key contacts and relationships with our operator customers. The conference was structured to allow significant opportunities to interact with all conference attendees. This allowed all the sponsors the opportunity to gain meaningful insight into their customersí operational successes and challenges and to develop personal relationships as well. The conference attendees were senior level executives within the operator organizations which created a unique environment to further top-to-top relationships among our senior management team with our customers.
The stage for an engaging conference was immediately set by the kick-off of the event with a successful keynote speaker that presented a thought provoking dialogue on execution. His presentation outlined key areas of management that focus on delivering results by setting clear business priorities and objectives necessary in the execution of successful businesses. The speakerís presentation was supported with effective case studies to support his analysis and conclusion. This set the tone for the entire meeting! Every conference topic that followed supported the fact that it is all about execution and reinforced all the successful elements of the Chain Leader Magazine providing business value for both the operator and sponsor.
The opening was immediately followed up by a fun and food-filled cocktail party that started immediate relationship building opportunities. The attention to detail exhibited throughout the conference made each portion of the conference effective and the interactions among attendees effortless. Land O'Lakes, Inc. products were showcased at every opportunity.
We consider

Chain Leader LIVE

a success in accomplishing all of our objectives in committing to the title sponsorship of this conference. We are looking forward to our continued participation next year!
---
Richard Cusick CEPC, National Account Executive Chef Sponsor, Sara Lee Foods Inc.
Richard, youíre a sponsor of this event, can you tell us the benefits of your sponsorship?
I think the best benefit for a sponsorship is just again to be in one place with so many of my customers. Getting to interact with them, listening to them talk about their restaurant chain. What they see in the future, what needs they have in the future and interaction with them.
Have you met new customers, new contacts?
All of my main customers are here, so I think that bodes well about Chain Leader and the conference itself. So you have attracted the top chains here and the top people from the chains.
Did we serve your product?
Yes you did, you served my product.
How did we do?
To be very truthful I was very nervous because a consultant handled it. So, when I got here I was a little bit nervous because I am Corporate Chef for Sara Lee and that is my job to show product utilization with our products. So, the first event they had was a reception and I was blown away by the food. It was a multi-cultural look at food and the product usages of our products were phenomenal. I actually asked to have all the descriptions e-mailed to me because I might utilize some of those things in my own work. It was phenomenal. The breakfast this morning was fantastic, again another unusual use of our product and kind of a leading, I would say a leap for our products. Sometimes I get hung up in the normal usages of our products, so it was really great to see some contemporary usages of our products. Fantastic.
Has the program, the line of the panel given you any ideas to use when working with your own operator partners?
It was very interesting and its resonated in a lot of different venues that Iíve been at but I think it speaks kind of poorly to manufacturers that theyíre asking for the sales person to be more knowledgeable. We could do a better job at training ourselves to understand our products. For myself, to hear that over and over again, I take that back to my place where I work at and try to really hone that message in. That product knowledge, trend knowledge, industry knowledge is essential to what we do. When I look at your magazine, I have a binder for each one of my accounts and the profiles that you guys do is kind of leg work for me. You kind of help me do my job. I love your magazine in that respect that I can (1) get a visual of a restaurant instead of traveling all around the country; sometimes I donít have time to. I get a look at a restaurant through your magazine and then itís great to hear people reinforce that message to me that they donít want their time to be wasted and they obviously donít want me to waste their time. So, I think that was the strongest message to me so far is to reinforce what we do, donít waste their time bringing relevant products to them, solutions to them, understand their chain. Thatís probably the biggest thing I learned. Itís very interesting to see how people see the landscape thatís going on today, it kind of reinforces what I feel. Whatís going on right now, thereís as much competition now, you have to be very fresh and contemporary with what youíre doing in your chain to attract new customers, but then again not to lose your core contemporary, but then you can see a chain like Blimpieís doing very contemporary flavors and to hear them speak about those but I think it is very important. It kind of reinforces what I do, I do a lot of my own research and I take that very serious and sometimes itís just really good to hear people reinforce what Iím seeing. Thatís the message I got here at the conference.
---
Mike Orlando, Managing Director Sponsor, A J Antunes
Can you tell us why you came to Chain Leader LIVE?
We came to Chain Leader LIVE because this is the only place that I know of where we can get the quality and the caliber of the people that we want to talk to.
Have you been taking advantage of the networking events and the meals?
The networking events are a primary importance to us. The reason that we came here is to make those contacts.
And have you indeed done that?
We have.