2005 Dealer of the Year: The Boelter Companies
The Boelter Companies developed into one of the country's largest E&S dealers based on the premise that a company's leaders should work for its frontline associates.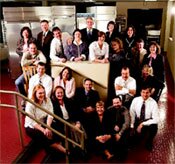 The Boelter Companies:
Bill Boelter freely admits that the culture of The Boelter Companies, Foodservice Equipment & Supplies' 2005 Dealer of the Year, runs counter to the natural inclinations of most people.
When they are managers, individuals typically establish command and control structures under which they give orders that their subordinates follow. "For most," Boelter says, "being a manager means telling others what to do and they do it."
The Boelter Companies, headquartered in Milwaukee, used to employ such a system, one where the boss would pass orders down to his employees — the jump/how-high structure on which most businesses are based.
But in 1986, the dealer's leadership team re-thought its management style and introduced the servant leadership culture. This system literally turns the typical business hierarchy — the pyramid with the president sitting at the pinnacle giving orders to everyone below — on its head.
Under The Boelter Companies' inverted pyramid system, those frontline employees who work with customers — the drivers, showroom staff, ISRs and DSRs — are placed on top. Everyone below is charged with meeting the needs of those above him. The company's top leadership sits at the very bottom of the pyramid, tasked with meeting the needs of all the firm's mid-level leaders and frontline associates.
This approach has served the company well over the years. During the span, The Boelter Companies earned Dealer of the Year honors twice, first in 1990 and again this year. Since 1990, the company's payroll has grown from 85 to 293 employees and it now boasts some 11 locations around the country, many brought to the company through a recent acquisition. The dealer's sales have grown from approximately $33 million in 1990 to more than $108 million in 2004, making The Boelter Companies the nation's seventh-largest E&S dealer, according to FE&S' 2005 Distribution Giants Study.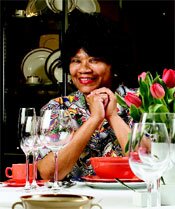 Diana Dean, Boelter's tabletop specialist, in the dealer's Milwaukee showroom.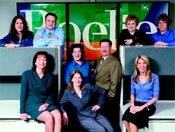 Boelter DSRs and ISRs at the offices of the firm's Beverage division. Each DSR works primarily with a single inside sales support person, forming a close working relationship that grows more effective and efficient over time.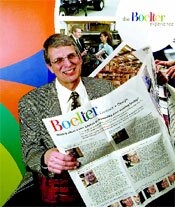 Paul Burgoyne, vice president of supplies sales and marketing, has made significant strides in The Boelter Companies' marketing efforts, including the creation of this quarterly sales bulletin.
Photos by Marc Berlow
Why This?
Since servant leadership is a counterintuitive business practice, it should come as no surprise that the system is the fruit of a conscious effort to set the direction for a company at a turning point.
In the mid-1980s, Boelter's growth prompted the firm to move into a building on Milwaukee's west side that serves as its headquarters to this day. The firm chose a location that included plenty of room to add new employees and inventory, effectively challenging the dealer to take its performance to the next level.
To do this, though, Bill Boelter realized that everyone at The Boelter Companies needed to be working with the same goals in mind and with the proper understanding of their roles within the company. The firm, therefore, used the move into its new location as an opportunity to bring its leadership together to create a unified corporate culture.
About 35 managers and middle managers at the dealer were charged with forming this culture. These individuals explained the challenges and issues facing the people in their respective departments, read books on successful companies and shared their lessons, and discussed the advantages and drawbacks of different management styles as they pertained to Boelter.
After more than a year of discussion, a cross section of the company's associates determined that the servant leadership model offered the best path for successful growth.
The key to growth in a crowded industry, says Boelter, is providing customers not just with goods and services, but also with an "experience" that keeps them coming back repeatedly. In the eyes of The Boelter Companies, a great experience requires enthusiastic people with positive attitudes working with customers.
The people who have the greatest impact on the customer experience are the dealer's frontline associates and the best way for a company to instill positive attitudes in these individuals is to provide them with the tools they need to thrive.
"Customers have to feel you're better than the competition," says Boelter. "And customers aren't going to feel that way unless your frontline people are enthusiastic. The experience you bring to your customers is formed by the attitudes of all your frontline people. If they are being supported, then they relate very positively to the customer."
Theory into Practice
Clearly, then, the company's focus on meeting the needs of its customer-facing associates is meant to impact directly the services they provide to their clients. In other words, the whole purpose of The Boelter Companies' servant leadership culture is to enable its associates to better serve their own customers.
In many cases, the associates who are impacted the most by the service leadership culture are the company's DSRs.
MORE ABOUT
THE BOELTER COMPANIES
Perhaps the most significant tool Boelter provides to its DSRs is the firm's inside sales team, specifically the unusual way in which it is structured.
At many large dealerships, DSRs seeking sales support from inside their company call a general number and are forced to work with whatever support person happens to pick up the phone. The quality of the help they get is simply the luck of the draw.
The Boelter Companies has taken a different tact. Recognizing the value of quick responses and close working relationships, each of the company's DSRs has a single inside salesperson to turn to with all their requests, as well as a backup ISR.
According to Paul Burgoyne, the dealer's vice president of supplies sales and marketing, this is a costly initiative, but it is an essential part of the firm's commitment to serve its customer-facing associates.
"It's a huge investment," Burgoyne says. "In many companies, you wouldn't get that kind of support until you write $2 million a year, and then you'd have to be standing on a table screaming and threatening to quit."
These individuals, who typically work with two-to-four DSRs each, handle much of the nuts and bolts tasks that might otherwise consume big chunks of a salesperson's time, such as entering direct-ship orders and tracking down manufacturer pricing. They also often work directly with customers themselves, forming relationships on a first-name basis.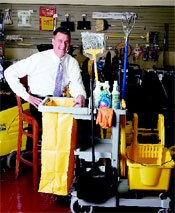 When he joined the company earlier this year, Boelter Hospitality President Andy Ahrens literally started from scratch by creating pricing structures, price lists and establishing inventory.
In addition, since DSRs and their customer support persons work so closely with each other, in many cases the relationships become more instinctive and efficient over time.
According to Sale Representative Mike Cooke, for example, the individual who provides him with inside sales support often knows what markup he wants to place on an item. This understanding and trust eliminates the need for a phone call or e-mail between the two, thus freeing-up time that Cooke uses to serve his customers.
In addition to establishing a unique inside sales support structure, The Boelter Companies has made significant investments into specific product areas through dedicated staff members.
One of these is Diana Dean, the dealer's tabletop specialist. Working primarily out of Boelter's showroom operation in Milwaukee, Dean acts as a consultant to the dealer's outside sales staff on their tabletop presentation.
She also regularly works directly with operators, either during appointments where major changes to a customer's table-setting are often explored, or with walk-in customers seeking to add just one or two pieces to freshen up their presentation.
The decision to have an associate focus on one narrow segment such as this does add further cost to the high overhead that is a necessary characteristic of the servant leadership culture.
According to Eric Boelter, president of The Boelter Companies' E&S distribution arm, such investments are part and parcel to the dealer's effort to create an outstanding brand for itself, however.
"If we use a factory rep as our expert on tabletop, then we as a company lose control over the experience we generate," he says. "It's not the cheapest way to go to market, but it allows us to put our best foot forward."
Of course, not all the tools Boelter provides to its DSRs come in the form of flesh-and-blood support. The dealer has also provided all its outside sales team with hard assets that enable them to work more efficiently.
Chief among these are the laptops — complete with wireless connectivity — that each of the company's DSRs have been equipped with.
Loaded onto these laptops are markup and margin information, customer purchasing history, and order templates, among other tools, all of which allow DSRs to provide better service to their clients and grow their business.
"All this information technology has helped our account penetration," says Cooke. "Now we can get answers to customers before they have a chance to talk to somebody else. A lot of the time, the first person in with the information gets the sale."
Creating Opportunity at Boelter
While Boelter's servant leadership culture is based on empowering frontline associates, one question its executive team must still answer is what, specifically, they want these jobs to be. In other words, they must still determine the firm's strategic goals and how its associates can achieve them.
In recent years, the leaders of The Boelter Companies' have stressed growth in equipment sales, and enacted many initiatives to achieve this goal.
As with tabletop sales, the dealer brought a dedicated equipment specialist on its payroll.
A former E&S specialist with a broadline distributor, Mary Suchomel works primarily with the dealer's outside sales team. Suchomel becomes involved in equipment sales opportunities that do not require drawings (the existence of which determines if a job is handled by the firm's design division or supply division), but do require the purchase of new equipment.
DSRs selling these projects contact Suchomel to discuss their clients' needs, challenges, price ranges and other factors. Often, say those on the Boelter sales staff, Suchomel is able to recommend the best piece of equipment after just half an hour or less of research.
Naturally, the drive to improve the firm's equipment sales extends beyond the street and into the dealer's Superstore operation at its Milwaukee headquarters.
In recent years, The Boelter Companies upgraded its showroom to include a large equipment area. This section of the store includes various utility hookups, which in effect give The Boelter Companies a fully functioning test kitchen when needed.
And to support walk-in sales, the company now stocks a significant amount of equipment. While doing so is a large investment, having equipment on hand allows the firm to service those customers that are in urgent need of a replacement piece, Eric Boelter says.
While the initiative does add to The Boelter Companies' overhead, Eric Boelter notes that some of this expense is offset by what are in effect functional discounts certain manufacturers provide to distributors who stock and offer immediate delivery of their items.
"If we're stocking manufacturers' products, they're going to get greater market share, and that's a value to them. If a factory chooses to recognize that, we support them wholeheartedly. Those are the people we'll be working with in the future," he says.
Notably, the value of such partnerships is enhanced by the dealer's marketing efforts, which have become more expansive under Burgoyne's leadership.
The most significant of these initiatives is a quarterly bulletin advertising sales on a number of items, but focusing on equipment. This four-color publication, which the company direct-mails to its customers, is about the size of a standard newspaper and is printed on heavy news stock.
According to Eric Boelter, the flier spurs equipment purchases in the dealer's Superstore and on the street, thus benefiting those manufacturers whose equipment Boelter stocks.
At the same time, say the firm's outside salespeople, the sales bulletin makes the act of approaching a customer or potential customer that much easier. "When you go into a new account, you've got to have something that may be of interest, and now we always do," says Cooke.
Beyond promoting the sale of items, the bulletin, along with other marketing materials, reinforce the company and its brand. Instead of salespeople explaining why a customer should do business with them as individuals, they have the tools to demonstrate why an operator should work with the entire Boelter organization.
Of course, not everyone can thrive in this sort of environment. When looking for people to partner with or employ, the company seeks individuals with certain qualities.
"Our tagline is 'attitude makes the positive difference.' We want to work with people who are upbeat and positive. Those are the kind of people that customers like doing business with," Bill Boelter says.
When Boelter finds individuals that meet its criteria for a good fit within the company, the firm is willing to go to great lengths to keep them challenged and motivated, and will readily move people into positions that do not match their original career focus.
Joe Anderson has worked with The Boelter Companies since the mid-1980s, originally starting as a payroll supervisor with the dealer. A couple of years into his tenure with Boelter, he accepted an accounting job with another firm. When he informed Bill Boelter of his decision to move on, Bill said, "We like you — we believe in you. What do you want to do?" After a discussion, Anderson accepted a post as a DSR, and has proven to be one of the firm's most skilled and successful sales representatives, counting the American Club at Kohler, site of the 2004 PGA Championship, as one of his clients.
Such cases at The Boelter Companies are numerous. Cindy Geisert joined the firm as an ISR and is now its purchasing director. Bob Harrer, once a driver, is now Superstore leader, while Jesse Provost, who joined the dealer as a warehouse associate, is one of the company's most successful CAD operators.
This aspect of The Boelter Companies' culture extends beyond its main headquarters. Gerry Carsello, a truck driver for many years, now is one of the dealer's top sales producers in the Chicago market. Anne McCabe joined the company as an assistant to Bill Boelter's administrative coordinator, moved onto sales and now works as president of Boelter Illinois and Michigan. Karen Wallace, joined Boelter out of college as an inside sales rep, moved to a position in the IT department, and now works as Director of Operations for Boelter Beverage Group.
This eagerness to meet the needs of its employees and to retain those people who thrive in The Boelter Companies' corporate culture has resulted in literally scores of employees who have been with the firm for more than a decade.
According to Rick Eggert, an eight-year DSR with the company, the stability of The Boelter Companies payroll is attributable to the servant leadership culture established years ago.
"When I got hired, I thought somebody would quit and I would take their territory," Eggert recalls. "Bill gave me a catalog and a whole stack of credit applications, and I figured I would do things that way for just a few months. You know what: Nobody quit. That says it all.
"The tools they give you to work with and the atmosphere make this a great place to work. I told Bill during my interview that I want this to be my last job, and I still feel that way."
The Boelter Companies' desire to work with the right people extends beyond basic hiring and retention decisions. It, in fact, led the dealer to expand significantly in recent months.
In January, the firm formed a new LLC in partnership with Andrew Ahrens, a former disposable distributor salesman Bill Boelter met during an industry golf tournament. The company, Boelter Hospitality, focuses on selling guest room amenities, towels, tissue and liners to the lodging and healthcare markets.
On a larger scale, in September 2004, The Boelter Companies made what was probably the most aggressive expansion move of any dealer last year, taking over seven offices of the now former U.S. Foodservice Contract Design division.
Such a bold move was prompted, again, by the relationships Bill Boelter had with the two individuals who are now the leaders of Boelter Contract & Design, President Lenny Mazurek and Vice President Steve Trebisovsky.
Last July, U.S. Foodservice announced plans to wind-down its 19-office contract design unit as part of the troubled broadliner's effort to refocus on its core distribution business.
Mazurek and Trebisovsky, leaders of the unit's Minneapolis office, began to explore the possibility of acquiring that location and going to market as an independent foodservice design house. Recognizing that there was an opportunity to go beyond a single office though, the two contacted Bill Boelter about partnering to assume responsibility for remaining U.S. Foodservice Design work and opening a new contract and design business staffed primarily with U.S. Foodservice personnel.
"I've known Bill Boelter for many years, and we have a great relationship," says Mazurek. "I called him and said, 'Bill we might have an opportunity here.' Two days later we were in his office discussing the situation, and the next day we left on a handshake."
According to Eric Boelter, the deal to assume what, admittedly, was only marginally profitable work in progress would never have been made had the division not been led by two individuals who share The Boelter Companies' approach to business and have the confidence of the staff.
"You need people who have as good or better ideas as you do on how to make a venture successful," Eric Boelter says. "We've been blessed with those opportunities. Would we have done the U.S. Foods acquisition without Lenny and Steve? No. No way."
While everyone involved in Boelter Contract & Design's creation is confident that it will ultimately prove to be a successful addition to the Bolter family of companies, it does come with some challenges.
One of the most notable will be ensuring that The Boelter Companies' corporate culture, so focused on turning leaders into the servants of frontline associates, is established in these new branches, which are as far-flung as Maine and California.
According to Eric Boelter, key to this is regularly communicating the corporate culture with the leaders of the division and then depending on these individuals to instill that into their offices.
"We share information on a regular basis, whether it's about supplier deals, business processes, sales techniques or communicating our vision with our project managers, sales team and support people. Instilling our culture is a huge challenge. It's not going to happen just by osmosis. Leadership needs to talk about it and do it," he says.
Another challenge created by the formation of Boelter Contract & Design is managing and coordinating the work among the new division's offices and with Boelter's pre-existing design teams.
In addition to in-house contract departments in Milwaukee, led by Jeff Reinhardt, and Chicago, led by Eric Chaplick, The Boelter Companies already had an existing contract and design LLC, 10-year-old Landmark. This company is under the leadership of Paul Koslak and Tom Lutz and is located, notably, in Minneapolis, the city where Mazurek's and Trebisovsky's Contract & Design unit is also headquartered.
With so many different units and offices pursuing essentially the same kind of work, The Boelter Companies must establish how these different offices go to market and what to do when more than one location pursues the same job.
The units, says Eric Boelter, will all go to market with the same values and vision, "because we have one brand. Those values and the experience we want to create for our customers tie us together. Whether a customer is doing business with us in L.A. or Milwaukee or Maine, they should get the positive experience that we strive to create."
Of course, the potential for crossover exists because of the sheer number of units affiliated with The Boelter Companies. It has, in fact, already occurred. The dealer has taken steps to handle this situation. Via its company intranet, a manager can register leads for particular projects, enabling all the remaining units to see what work the others are pursuing. Should two offices pursue the same project, the leaders of these units will confer and determine, usually based on the existing relationships, which has the best chance of landing the contract.
Not all of the challenges created by the formation of Boelter Contract & Design involve culture and customers. Integrating this new division into the company from an infrastructure standpoint is a task, as well.
The company relies on a well-known enterprise resource planning system to manage all its units, LLCs included. While it is more powerful than the dealer requires, says IT leader Susan Marcott, that horsepower makes adding new divisions relatively easy. Within a week, Santo Mortillaro, Boelter's IT project manager, can have a new company up and running on the system.
Providing internet and phone lines to Boelter Contract & Design's seven locations has proven a bigger challenge. Each has had to transition from deals struck with vendors by U.S. Foodservice to arrangements with service providers of Boelter's choosing.
Buying, Not Selling
According to all involved, though, the logistical aspects of expansion are secondary to the thought processes of Bill and Eric Boelter.
The leaders of the firm, they say, are focused on job one: creating a positive experience for their customers.
The best way to do that is not just to provide them with things, but also to create an experience for them that they'll want to repeat, Bill Boelter says. If you have enthusiastic associates who themselves have the tools they need to do their jobs well and do them well, the numbers will take care of themselves.
"I don't really believe in selling in this business," Bill Boelter says. "If you're trying to move things on a one-shot basis, like homes, that's when you sell. But I believe that you want people to buy from you, and they will if you do the right things. When people like you and trust you, they're going to want to do business with you."
---
When Opportunity Knocks
Some people adopt the philosophy that when one door closes another one opens. Such is the case for the Boelter Contract & Design Company, LLC.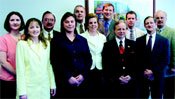 The Boelter Contract & Design group includes front row (L. to R.) Michelle Richmond, Bernie Braegelmann, Alva Keogh, Len Groschen and Steve Trebisovsky; and back row Anne Bogie, Steve Boulka, Bob Broich, Eric Boelter, Randy Englund and Lenny Mazurek.
Last July, U.S. Foodservice announced plans to close the 19 locations that housed its contract service business. With a significant number of jobs to complete and employee morale sliding by the day, a few members of the broadliner's Minneapolis office suggested to industry veterans Lenny Mazurek and Steve Trebisovsky that they throw their hat into the ring to buy the business.
After careful consideration, Mazurek and Trebisovsky decided to do just that. So they drafted a letter of intent to purchase and sent it off to U.S. Foodservice. Then the duo needed to find a partner to help seal the deal. In doing so, they leveraged their longtime relationship with Bill Boelter, chairman of The Boelter Companies. Following several long and tense months, U.S. Foodservice's contract division became the Boelter Contract & Design Company, LLC.
What is remarkable is that the partnership between Mazurek and Trebisovsky and The Boelter Companies came together in basically one meeting that ended with a simple handshake representing an agreement in principal. "They were straight up and had lots of integrity," Mazurek recalls of his perception of The Boelter Companies prior to the deal. "You don't always find that in our business. So when this opportunity presented itself, it was only natural for us to talk to them."
With that quickly behind them, all that remained was hammering out the finer points and the legal aspects, which in a deal of this size can take some time. "It was extremely difficult at the start," Trebisovsky says. "The interest was there but we did not know whether we could make it happen."
In the end, the new Boelter Contract & Design group kept open seven of U.S. Foodservice's branches, including: Minnesota, Missouri, Georgia, Maine, Arizona and two in California. A true sign that the duo would fit nicely into The Boelter Companies' unique culture came at one of the more difficult times of the entire process. "We called each person we would not seek to hire to let them know they would not be a part of the Boelter team, and offered any assistance we could," Mazurek says.
Getting the U.S. Foodservice employees The Boelter Companies hoped to retain interested in and initiated into the Boelter culture and way of doing things was critical. So those individuals were flown to the corporate headquarters in Wisconsin for a daylong orientation.
"When we first started telling them about The Boelter Companies, many did not know too much about it," Mazurek recalls. "But once they started making some inquiries, the Boelter name kept bubbling up and they started to realize this company has a good reputation."
One key to the deal from U.S. Foodservice's side of the table was that all remaining jobs contracted to them, including work in progress, be complete. The net result was a very hectic period for the remaining employees as they essentially ran two parallel companies working on more than 80 projects.
"We had two sets of everything from computers to attorneys," Mazurek says. "It was a real challenge for our associates, who had to close out the U.S. Foodservice jobs as we also needed to get new ones as being a part of The Boelter Companies. It was a little confusing for a while as you went back and forth between the two companies, their clients and jobs."
Mazurek and Trebisovsky anticipate the last of the U.S. Foodservice jobs will be complete by July.
While no transition of this nature is without its share of unforeseen glitches, Mazurek and Trebisovsky happily report that their group continues to move in the right direction. "The transition for our Midwestern offices has not been that difficult because people in the industry were familiar with The Boelter Companies," Trebisovsky says. "The offices on the East and West Coasts are having to sell themselves to build up that awareness. But all in all it has gone much better than expected."
To help make that transition a little easier, salespeople were armed with a special folder that included a press release announcing the deal, a document outlining the Boelter business philosophy and a sample of projects completed throughout the country. In addition to the marketing support, the main Boelter office provided assistance in a number of other ways including contract administration, human resources and information technology.
"They have really bent over backwards to help us get up and running," Trebisovsky says.
And The Boelter Companies' unique corporate environment has also helped make for a smooth transition. "The culture is so pro-people or pro-associate, which is really a sharp contrast from typical big company atmospheres," Mazurek says.
With most of the tasks associated with the transition complete, the Boelter Contract & Design group is now working to establish itself further in the markets it serves. "We are out in the marketplace knocking on doors, attending trade shows and just talking to the people, which is what you are supposed to do," Trebisovsky says. "We are moving full-speed ahead."
And apparently with some success. Since the deal has been completed, the Boelter Contract & Design group has added several new employees and continues to receive a warm reception from the industry. "The suppliers we have dealt with have been extremely helpful," Mazurek says. —JC
Boelter Hospitality New LLC Is Par for the Course
As a Wisconsin native and someone who had been doing business in the state for more than 19 years, Andy Ahrens had long been familiar with The Boelter Companies' name and reputation but had little first-hand knowledge about FE&S' 2005 Dealer of the Year. Two years ago that all changed when Ahrens was paired with The Boelter Companies Chairman and CEO Bill Boelter at an industry golf outing. Despite how well this chance meeting went, Ahrens could not have anticipated the par for the round would be the formation of Boelter Hospitality.
But that is exactly what happened and in January Ahrens joined The Boelter Companies as president of the newly formed Boelter Hospitality, a limited liability corporation. This came as a result of a 16-month process and many meetings with Eric Boelter, president of The Boelter Companies.
Working with The Boelter Companies was appealing to Ahrens for numerous reasons. A former senior account executive serving the hospitality industry for Clark National, Ahrens liked the fact that Bill and Eric were easily approachable and that the culture was so warm. "It was a totally different culture from a lot of places," Ahrens says. "The people here are empowered to serve the customers and make business happen. It is amazing. What we need to service a customer we get and that helps motivate us to keep moving."
When he joined Boelter in January, Ahrens literally had to start from the ground up by creating a pricing structure and a price list because the hospitality arena was a new area of emphasis for the company. The nature of the products in the hospitality arena differs from traditional foodservice equipment and supplies, which meant that accomplishing this was more of a challenge than Ahrens had expected. But he quickly overcame any obstacles. "Now we are up and running and it has taken on a life of its own," he says.
Sales got off to a fast start as several long-time industry contacts reached out to Ahrens and placed orders before a price list was published. Additional prospective clients agreed to buy from Boelter Hospitality once they realized the pricing was competitive with other industry providers, Ahrens says. "Our purchasing department is bending over backwards to get the products we need and to get them onto the delivery trucks in a timely fashion," he adds.
Once a customer places an order, the Boelter infrastructure handles all the details, from purchasing to delivery to invoicing. This allows Ahrens and his team to get additional face time with other customers and generate the next order. "The Boelter infrastructure makes sure that orders are delivered on time and allows us to be a one-stop shop for the customer."
"The talent and resources this organization brings to the market is incredibly deep," Ahrens says. "I can take a product specialist with me on a sales call to demonstrate how an item might benefit a client's operation. And once we sell certain products that require it, we have the ability to service the client."
Boelter Hospitality serves northern Illinois and all of Wisconsin, a territory Ahrens describes as competitive but not too crowded. These markets are experiencing some growth thanks to an influx of family-oriented water parks to the area. Ahrens hopes the territory will grow to encompass the entire upper Midwest. Last month, Boelter Hospitality took another step in that direction by adding an additional member to the team: Cheryl Tostrup, a sales rep that serves the hospitality market in the northeastern portion of Wisconsin.
It did not take Ahrens long to fit into the company's servant leadership culture. For example, after making a new client call, Ahrens sends his contacts a personal letter thanking them for meeting with him and inviting them to visit the Boelter Superstore. "And walking through those doors just opens up so many possibilities," he says.
For the larger customers or those with more sophisticated ordering and inventory management systems, Boelter Hospitality has the technical capabilities to meet their needs. "Our online ordering and EDI (Electronic Data Interchange) capabilities really are an advantage with some of them," Ahrens says. "In the end, it comes down to the fact that we are a local option that can deliver a superior customer-service experience when compared to some of the full-service, national providers."
In addition, Ahrens hopes to leverage The Boelter Companies' solid reputation in the foodservice community and certain economies of scale to help penetrate those accounts that cross over into the hospitality arena. "Boelter reps are in the back of the house servicing chefs or foodservice managers," Ahrens says. "Now we are in the rooms department and other areas selling our products."
The way Ahrens sees it, this creates a true "win-win" scenario for all involved. "We come to the table with everything they are going to use," Ahrens says. "And clients like buying from one company because the logistics are easier to manage. You have one truck bringing all the product and one invoice to pay. And our company gets deeper penetration into a customer, which is good." —JC
Beer, Barware and Boelter
If you've ever spent a night out on the town, odds are that you've bumped into or drunk out of a product from the Boelter Beverage Group.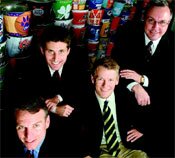 Boelter Beverage's team includes (front row, L. to R.) Lewis Barbera, national accounts manager; Rick Boelter, president; (back row, L. to R.) Steve Dindorf, national accounts director; and Mark Petre, director-national accounts.
The group, which employs about 35 individuals out of a facility in Waukesha, Wis., specializes in the sale and distribution of branded point-of-sale utility items used in bars, restaurants and at special events — pint glasses, coasters, napkins, plastic cups and others imprinted with the logos of specific beers and breweries and used to serve beverages.
It was founded in 1970 by John O'Brien, then a Boelter DSR. At the time, says President Rick Boelter, utility items were typically procured and distributed by breweries to beer distributors. As a job well outside the core competency of beer makers, this work was usually handled in a clumsy manner.
"There wasn't always room on the trucks for the items, and it was very high-maintenance for the brewery personnel to look after," Boelter says. "It wasn't working for the distributors, either, so they started looking elsewhere for the product and the brewery started to lose control over things."
With Boelter offering to take this work off its hands, the Schlitz Brewing Company contracted it to handle the procurement, marketing, sales and distribution of these goods. Within a year their sales doubled for Schlitz.
Over the next several years more breweries began to do business with Boelter Beverage Group, and today the company works with every major brewery and beer importer in the United States, as well as with a significant portion of the microbrewery market.
A major contributor to this success is the fact that the group has formed a unique niche for itself in the services it provides. Most of Boelter Beverage Group's competitors, says Boelter, don't focus specifically on beer and beverage point-of-sale utility items. Rather, competitors are typically firms that concentrate on one item only, such as glassware or napkins, or are marketing companies that have a much larger product line including goods such as t-shirts, pens and buttons.
By concentrating on the beverage industry, Boelter Beverage Group becomes the proverbial one-stop shop for all these items, while offering a deep understanding of the market it serves. "We can do almost anything a customer can ask related to these product lines in turnaround times that are unheard of in other parts of the market," says Boelter. "We also offer very competitive prices because we're taking industrywide volume and leveraging that for individual breweries."
This intense focus on the beverage industry should serve the company well as the beer industry consolidates, creating global breweries. The challenge, though, will be communicating Boelter Beverage Group's value proposition to those who are not used to working with the company.
"We have strong relationships all the way down to the distributor level," Boelter says. "That's where we really understand the industry and where we can continue to bring value. Who we are, our story and what we bring to the table mean a lot to the brewing industry marketing chain." —TW
Family Matters
For Bill Boelter, chairman of the board for The Boelter Companies, entering the family business was never really up for discussion. "My dad just expected me to do it," he recalls.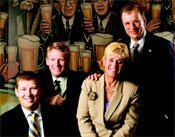 Each member of the family made a meaningful contribution to The Boelter Companies' corporate success. Pictured here in front of a mural that highlights family members and others that contributed to the company's success are (from left) Eric, Rick, Priscilla and Bill.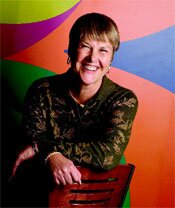 IT Director Susan Marcott has been key in integrating the infrastructure of the new Boelter Contract & Design division.
In the early 1950s, Bill's father, Fred, hired two salespeople to help grow the business. Dick Campion joined The Boelter Company to handle the contract sales while John O'Brien came onboard to handle sales of paper products. The success of Campion and O'Brien had left Fred in need of an extra set of hands to keep the business moving.
"The sales those guys generated really had my dad hopping," Bill recalls. "So when I came on I was really a middle manager who tried to keep things moving smoothly. In those days we did not have the organization that we do today. The line of associates outside my door each day left no time for planning for the future."
By the time he was 30, Bill had been promoted to company president and in the mid-1980s he started building the structure that remains an integral part of its success to this day. For example, Bill hired the company's first chief financial officer to deal with the banks and a sales manager to manage the feet on the street and the processes that go along with them.
"I started doing things that we as a company had never done before and made some mistakes in the process," Bill says. "We really built an organizational structure. We were always expanding in sales but the profitability came hard. As the old saying goes: 'Easy come. Easy go.'"
As the company started to evolve, so too did Bill's sphere of influence over it, which in any business environment comes with its share of challenges. "And my assuming a greater role of responsibility was not without a little pain on my part or my dad's," Bill recalls.
But these experiences served Bill well when it came time for his sons to enter the family business. Eric, president of The Boelter Companies, and Rick, president of Boelter Beverage, earned their MBAs from the University of Chicago and Indiana University, respectively, and gained professional experience in other organizations before returning to the family business. "I wanted them to get outside experience, which is something I did not have a chance to do," Bill says.
At the same time he was growing the business, Priscilla Boelter, Bill's wife, was out growing the family's network of friends through her involvement in many civic organizations such as the Milwaukee Women's Symphony Board and Junior Achievement. In addition, Priscilla was active within the family business, getting to know everyone and their families.
"I can't tell you how many of our customers also know Priscilla," Bill says. "That is because she is outgoing and takes an interest in people. The power of networking is unbelievable. She was always an active member of the community making all sorts of contacts. And when we went to ABC or FEDA meetings she made it a point to get to know our suppliers and the other dealers. Many long-term friendships were fostered as a result.
"People always greet Priscilla with a smile and a good word," Bill adds. "You really can't over-estimate what a good spouse can do for your business."
One of the first hurdles any family member must clear when entering the business is earning the trust of others within the company. "I worked in a number of areas and learned the business from the ground up," Eric says. "And that's how you earn the respect of the people around you. That way they trust you because of what you know about them and their job and not who you are."
Still, this does not completely diminish the fact that standards and expectations can be a little higher for family members in a professional environment. "In the background you have that love for one another but you do expect more from family," Bill says.
For Eric, though, facing these increased expectations is not a real factor in how he approaches his role in the company. "You expect more from yourself and think you can make a difference and continue to move the business forward while being faithful to its vision," Eric says. "If I did not think that would happen, I would be looking for something else."
The father-son bond between the Boelters rests on a solid foundation of love, admiration and trust but it is not without its occasional conflict. "It is not going to be smooth sailing all the time because it isn't just a business relationship," Eric says. "What is very helpful is that we accept that there will be conflict and sometimes we even laugh about it."
Bill agrees and says one key element of developing a good working relationship among family members is focusing on the task at hand. "You have to try to remain objective about the issues you face," he says. "But I am not afraid to ruffle any feathers within the family and neither is Eric."
Like every relationship, communication is critical. "We talk all the time about the various issues that come up," Eric says.
Over the course of those many conversations, Eric has learned much from his father. Some of the more poignant lessons he strives to incorporate into his dealings include: being forthright, caring for people, serving the frontline people of the company and exhibiting humility.
"I don't think they are going to learn too much more from me," Bill says of Rick and Eric. "They have their values and know what life and servant leadership is all about. Of course you continue to grow throughout your life. But in terms of the basics, Priscilla and I are very thankful and feel blessed to have two guys who have both feet on the ground and are really solid businessmen."
And like Eric, Bill retains much of what his father taught him. "Doing the right thing is always foremost on your mind," Bill says. "The bottom line is the result of that." —JC