Class Acts
FE&S' fifth annual Best in Class survey shines the industry spotlight on those manufacturers that subscribing dealers, consultants and broadliners named the ones that help them best meet customer needs.
By the Editors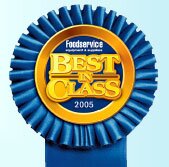 To get their foot in the door with any dealer, broadliner or consultant, manufacturers need to offer quality products that are priced correctly. To cultivate and maintain a long-term relationship with their distribution partners, though, a manufacturer must do much more. Those manufacturers that go beyond the call by being flexible and responsive when it comes to service, support and anything else that adds value for the end-user earn that coveted preferred status from their individual distribution partners.
Achieving an elite level of trust with even one dealer, broadliner or consultant is no small feat. But when a manufacturer gains the widespread respect from FE&S' subscribing dealers, broadliners and consultants who participated in our fifth annual study, that company has truly become Best in Class.
FE&S' Best in Class survey polls a sample of dealers, broadliners and consultants from the magazine's circulation file to determine who they perceive to be the best manufacturer for a series of key foodservice E&S categories. This year, the survey includes more data than ever (1,000 interviews total), including 425 dealer respondents, 325 broadliner respondents and 250 consultant respondents.
In addition to expanding the number of professionals surveyed, the other significant change in this year's study was made to the Overall Best in Class designation. The best way to determine whether a company truly is Best in Class is by making like-for-like comparisons with their competitors in that industry segment. For that reason, FE&S now offers an Overall Best in Class Award in four categories: Heavy Equipment, Light Equipment, Smallwares and Tabletop. This table, previously labeled "All Respondents," provides a clearer result.
Without any further adieu, we present the results from FE&S' 2005 Best in Class study.
Overall Best in Class by Category

Heavy Equipment
Light Equipment
Smallwares
Tabletop
1. True Mfg.

Star

Tie: Cambro, Vollrath

Libbey/Syracuse/World

2. Hobart
Hatco
 
Oneida/Buffalo
3. Vulcan-Hart
APW/Wyatt
Carlisle
Walco

Dealers

1. True Mfg.

Star

Cambro

Libbey/Syracuse/World

2. Hobart

APW/Wyott

Vollrath

Walco

3. Vulcan-Hart

Hatco

Carlisle

Oneida/Buffalo

1. Hobart

Hobart

 
 

2. Vulcan-Hart

Hatco

 
 

3. Cleveland

Star

 
 

1. True

Star

Vollrath

Libbey/Syracuse/World

2. Hobart

Vollrath

Cambro

Oneida/Buffalo

3. Vulcan-Hart

Bunn-O-Matic

Carlisle

Homer Laughlin
PRODUCT MANUFACTURERS
Overall Best in Class

Heavy Equipment
First
Second
Third
Blast Chillers
Traulsen
Servolift/Eastern
True Mfg.
Braising Pans/Tilting Skillets
Groen
Cleveland
Vulcan-Hart
Broilers
Vulcan-Hart
Southbend
Garland
Chef Counters, Prefab
Delfield
Randell
Advance Tabco
Combi Ovens
Blodgett
Rational
Alto-Shaam
Convection Ovens
Blodgett
Vulcan-Hart
Southbend
Conventional Ovens
Vulcan-Hart
Blodgett
Tie: Garland, Southbend
Conveyor Ovens
Lincoln
Blodgett
Middleby Marshall
Cook & Hold Ovens
Alto-Shaam
Cres Cor
Vulcan-Hart
Cooking Suites
Montague
Vulcan-Hart
Garland
Deck Ovens
Blodgett
Bakers Pride
Garland
Dishwashers/Warewashers
Hobart
Jackson
Champion
Fryers
Frymaster
Pitco
Imperial Commercial Cooking Equipment
Ice Makers
Manitowoc
Scotsman
Hoshizaki
Mixers, 12 Qt. & Larger
Hobart
Globe
Univex
Mobile Heated Cabinets
Cres Cor
Alto-Shaam
Carter-Hoffmann
Ranges
Vulcan-Hart
Garland
Southbend
Refrigerated Prep Tables
True Mfg.
Delfield
Beverage-Aire
Rotisseries
Henny Penny
Old Hickory/Hickory
Alto-Shaam
Stainless Steel Fabrication
Advance Tabco
Eagle Group

Tie: Delfield & Universal Stainless

Steamers
Cleveland
Groen
Vulcan-Hart
Steam-Jacketed Kettles
Groen
Cleveland
Vulcan-Hart
Upright/Reach-In Refrigeration
True Mfg.
Traulsen
Victory
Ventilation Systems
Captive-Aire
Greenheck
Gaylord
Walk-In Refrigeration
Kolpak
Thermo-Kool
Nor-Lake
First
Second
Third
Beverage Blenders
Waring/Cuisinart
Hamilton Beach
Vita-Mix
Coffee Brewers
Bunn-O-Matic
Bloomfield
Fetco
Conveyor Toasters
Hatco
Star
APW/Wyott
Countertop Griddles
Star
APW/Wyott
Vulcan-Hart
Countertop Ovens
Bakers Pride
Cadco
Blodgett
Disposers
In-Sink-Erator
Salvajor
Hobart
Drawer Warmers
Hatco
Wells
APW/Wyott
Electric Slicers
Hobart
Globe
Berkel
Food Processors
Robot Coupe
Waring/Cuisinart
Hobart
Griddles & Grills
Star
Vulcan-Hart
APW/Wyott
Heat Lamps
Hatco
Merco-Savory
APW/Wyott
Hot Dog Equipment
Star
APW/Wyott
Roundup
Induction Cooktops
Vollrath
CookTek
Tie: Garland, Spring
Microwave Ovens
Amana
Panasonic
Sharp
Parts & Accessories
FMP
Hobart
Consolidated Commercial
Pulpers
Hobart
Somat
In-Sink-Erator
Scales
Edlund
Pelouze
Detecto
Self-Leveling Dispensers
Servolift/Eastern
Lakeside
APW/Wyott
Serving Carts
Lakeside
Vollrath
Cambro
Shelving
InterMetro
Eagle/Metal Masters
ISS
Sinks, Prefab
Advance Tabco
Eagle/Metal Masters
Universal Stainless
Underbar Equipment
Perlick
Glasstender
Krowne
Worktables, Prefab
Advance Tabco
Eagle/Metal Masters
Duke
First
Second
Third
Cookware
Vollrath
Lincoln
Update
Cutlery
Dexter-Russell
Forschner
Mundial
Food Storage Containers
Cambro
Carlisle
Rubbermaid
Thermometers/Sensors
Cooper-Atkins
Taylor
Comark
First
Second
Third
Dinnerware/Chinaware
Libbey/Syracuse/World
Oneida/Buffalo
Homer Laughlin
Flatware
Oneida/Buffalo
Libbey/Syracuse/World
Walco
Glassware
Libbey/Syracuse/World
Anchor Hocking
Cardinal