Segundo Dining Room at University of California-Davis
The equipment lineup supporting this dining room's platform-style of service helps one member of California's college system meet the diverse needs of its student population and reduce food waste.
By Donna Boss, Contributing Editor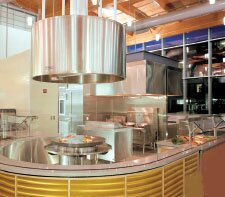 At Pacific Fusion, students select ingredients, place them in a bowl and hand to a cook who can prepare six to eightorders at a time on a Mongolian barbecue grill. High temperatures allow healthful and quick cooking.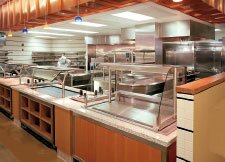 At Bistro, a copper soffit contributes to the polished ambiance. Here, the steel and metal provide a setting in which food is slightly more sophisticated and upscale.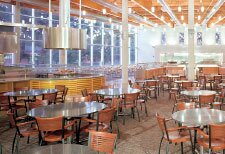 Neighborhood seating for Pacific Fusion combines modern light fixtures with a warm wood-beamed ceiling. The ceiling pattern is mirrored in the chairs placed at metal tables. This and other sections seat 825.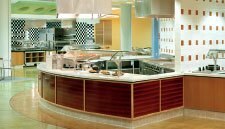 Curved and straight sight lines, neutral and primary colors and soft and contemporary counter fronts combine to produce an energetic, bright space in which all platforms are aesthetically linked, yet each has a distinct image.
A 2003 housing expansion at the University of California-Davis campus resulted in a need for the dining facilities on the north and south parts of campus to undergo a major overhaul. They had become too small to serve the 4,400 residence hall students expected on campus this fall and were worn and outmoded. As a result, UCD made plans to build two new dining facilities. The first, Segundo Dining Room, is a $22.8 million, 43,205-square-foot project on the north side of campus, which opened in June 2005. The second, Tercero Dining Room, on the south side, will open this fall.
"The old facilities dated back to the 1960s," says Brenan Connolly, resident district manager for Sodexho Campus Services, which has managed UCD's foodservice operations for more than 30 years. "The equipment and style of steam-table pan service were outdated. The architects, Sasaki Associates Inc., Webb Food Service Design Consultants, and teams from the university and Sodexho wanted platform-style formats in both the Segundo and Tercero serveries. We also wanted to bring the food preparation from the back of the house to the front so students could see the fresh ingredients and interact with culinary staff."
In Segundo, the servery features eight platforms. Each has a distinct image and mini-kitchen supported by a back-of-the-house production kitchen and culinary support kitchen. The seating area consists of 825 seats, divided into sections to create what the project's foodservice consultant, James Webb of Webb Food Service Design Consultants, calls "neighborhood environments" to accommodate different ambiance desires.
"The servery and kitchens are designed to be aesthetically pleasing to the eye with bright lighting, comfortable colors in the platforms and kitchen, ceramic tiles and stainless-steel bumper rails to protect walls for long periods of time," Webb adds. "Segundo also conveys a strong sense of energy along with a very high level of professionalism through a clean, well-organized environment."
"When customers walk in, they see creative food displays of many types of food offerings they'll find at the platforms," Connolly explains. "When they've decided what they want, they go to the appropriate platform, which offers customers components for a full meal. They then find a seat and eat. If they're still hungry, they return to the servery to get exactly what they want."
This new food delivery system is a combination of just-in-time cooking, with some items cooked-to-order, and self-service. All stations are equipped with worktables, refrigerators, sinks and water wash or regular exhaust hoods, heat lamps and hot or cold display tables as needed.
"We selected this system because we didn't want customers to wait in long lines," Connolly says. "At a few minutes before noon, for example, we start preparing food in small batches and continue until the end of the meal period. At some stations, food is plated and placed on a heated or refrigerated surface so students can quickly help themselves. Some stations, such as Fresh Inspirations, Saucy! and Plaza Sweets, offer self-service.
"We know our customers' food and service preferences by conducting extensive customer surveys and hosting advisory committees to determine their preferences," Connolly adds. "Customized orders are accepted, but customers may have to wait a few moments for these to be filled."
In addition to meeting customer needs, this new approach helps UCD operate more efficiently by reducing food waste. "In the past, we had 1,800 residents eating in a facility with seating for 350," Connolly recalls. "So, students would load up their trays with everything they thought they'd want, sit down and not want to get up for fear of losing their seats."
DESIGN CAPSULE
Completed at the end of June, the new Segundo Dining Room is one of four dining facilities serving 4,400 residents living on campus. The $22.8 million, 43,205-square-foot Segundo project was built following an expansion of residence hall housing on the north side of campus, which added 400 new beds to the existing 1,500. A platform-style servery offers "destination dining" with an all-you-can-eat plan. The dining area seats 825. In the back of the house are a prep kitchen and Culinary Support Center, which supplies food for the servery and all Sodexho-managed operations on campus. Hours: Breakfast, 6:30 a.m. - 10:15 a.m.; Lunch, 11 a.m. - 2 p.m.; Dinner, 4:45 p.m. - 8 p.m.; Late night, Monday through Thursday, 8:45 p.m. - midnight. Staff total 100; 35% are FTEs, the others, part-time students. Average check for cash customers, $6.50. Customers, 17,000 - 20,000 per week. Total equipment cost: $2.5 million. The entire campus population totals 31,000.
University of California-Davis Team
Director of Student Housing: Bob Smiggen
Design Director: Kate Scott
Associate Director, Facilities, for Student Housing: Roy Benson
Project Manager A&E: Catherine Buscaglia
Sodexho Campus Services Team
Facilities and Project Manager: Sam Marotto
Resident District Manager: Brenan Connolly
Senior Vice President: Brian Wadell
Director, Culinary Service Center: Greg Mazeres
Director, Segundo Dining Room: Kyle Peiper
Director of Culinary Services: Andy Burtis
Registered Dietitian: Linda Adams
Chef, Culinary Support Center: Bob Walden
Others
Architect: Sasaki Associates Inc., San Francisco
Foodservice Design Consultants: James Webb, Webb Food Service Design, Tustin, Calif.; collaborative partner, Jim Donahoe, Dewco, Whittier, Calif.
General Contractor: Howard Wright
Equipment Dealer: Kamran & Co., Santa Barbara, Calif.
At the Tomato Street Grill, staff use a countertop charbroiler and griddle to cook burgers, chicken breasts and specialty sandwiches. They sizzle french fries and onion rings in fryer units, complete with a dump station and fry basket racks. A refrigerated counter, toaster, food wells and heated sandwich slide also sit in this area. Attached to the grill is a beverage station with juice and soda dispensers.
Adjacent to the Tomato Street Grill is Saucy!, the pizza platform featuring a refrigerated pizza table, a pizza cutting table and pizza oven that staff use to prepare at least three types of pie daily. Also available here are calzones and casserettes such as enchiladas rojas and nachos with chili cheese. Staff use a back-of-the-house convection oven to prepare these mini-casseroles, then plate and place them on a hot-holding table for customer pickup.
Attached to Saucy! is Go Live, an exhibition cooking platform equipped with spider burner ranges and cold rails for staff to prepare dishes such as turkey scalappine Marsala, chicken fajitas, pasta al pomodoro and Southwest poblano chicken quesadilla. Staff continuously prepare batches of eight to 12 portions, plate and present them with a garnish in a hot-holding area heated from above and below.
Also near Saucy! is Plaza Sweets, a granary displaying fresh-baked breads, pastries and desserts. This platform features waffle makers that allow customers to make their own creations; a self-serve soft-serve yogurt machine; beverage dispensers for milk and branded, fair-trade and house-blend coffee; and automated cappuccino machines.
Behind this station, the dishwashing room includes a conveyor dishmachine, tray accumulator conveyor, waste reduction system and silver sorting table. "Its placement, in the back of the dining area and near the entrance, was selected so as not to affect the aesthetics of the dining room and still offer a centralized dish-drop location," Webb explains.
At the far end of the servery is Bistro, a Euro-kitchen-style exhibition cooking station with a charbroiler, four-burner ranges, a griddle, salamander and refrigerated rails. "This offers customers a fine-dining format with upscale salads and sandwiches," Connolly says. "At dinner, rotisserie chicken and carved meats and poultry are available." Customers can see whole chickens and roast beef cooking in combi ovens located just behind the platform.
Moving clockwise, the next station is Pacific Fusion, the site of a Mongolian barbecue grill. Customers select ingredients, such as vegetables, tofu, meat and poultry, place them in a bowl, and hand them to a chef who cooks the mixture. Customers can then add sauces and toppings. Staff also prepare dishes in wok ranges and fryers.
Blended with Pacific Fusion, Blue Onion is an organic vegan station providing a freshly prepared menu and equipped with a rice cooker, crepe machine, panini grill and refrigerated sandwich table. This area is open at dinner only.
In the center of the servery is Fresh Inspirations, a multi-station salad bar, which also features daily soups and a deli. This station forms a stage around a key dining area. A nearby, large Grab 'N Go station presents salads, sandwiches and entrées in cold display cases.
One of the servery's chief features is its flexibility, which allows Sodexho to close stations during slower periods. It is open for breakfast from 6:30 a.m. until 10:15 a.m. using a limited number of stations, such as the grill, where staff make scrambled eggs, meats, potatoes, hot cereal, pancakes and french toast. Omelets are made to order at Go Live. Plaza Sweets is open for bakery goods, bagels, cereals and waffles. Fresh Inspirations serves hot cereal, boiled eggs, fresh fruit, yogurt and cottage cheese.
All stations are open at lunch and dinner, with the exception of Blue Onion that is closed at lunch. Tomato Street Grill, Go Live, Saucy!, Plaza Sweets and a modified salad and deli station remain open for late night service from 8:45 p.m. until midnight Monday through Thursday.
Staff prepare and assemble the ingredients for each platform in the back-of-the-house production kitchen. (See page 40.) In addition, staff prepare some products such as soups, sauces and meats for Segundo and all Sodexho-managed campus operations in the culinary support kitchen.
As one of the largest schools in the California college system, University of California-Davis must meet diverse customer tastes, schedules and service preferences. Simultaneously, administrators must be cost-conscious to keep prices reasonable for student, staff and faculty budgets. The E&S packages in the servery, production kitchen and Culinary Support Center make it possible to achieve all these goals.
---
The Prep/Production Kitchen
Located directly behind the platform mini-kitchens, this area provides support to each concept. It is designed to be fun for staff, featuring many colors and bright lighting, according to James Webb. Webb collaborated with Jim Donahoe of Dewco to design the kitchen and Culinary Support Center. "E&S is divided into several departments to eliminate cross-contamination," Webb says. "In addition, the product flow from storage to preparation and production and to the platforms is arranged for HACCP compliance."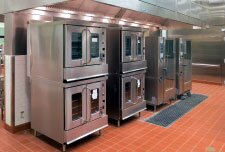 In the kitchen, convection ovens and combi steamers are among the E&S that supports the platforms. An undercounter blast chiller sits in the center of the room behind the large equipment.
Another feature, Webb notes, is the use of glass in offices so supervisors can see throughout the kitchen and can maintain good communication with other staff members.
Staff distribute food deliveries into various types of storage: walk-in coolers for dairy, meat and produce, and a walk-in freezer and storage room for dry goods. On the opposite side of the kitchen are ice machines, an ice storage bin, water filter and remote condensers.
In the center of the kitchen are cooklines and tables for cold prep. On one side are worktables, a range with six open burners, two ranges with griddle tops, fryers, a water wash exhaust hood and wall shelves.
Across an aisle are mobile heated cabinets, a utensil rack and worktables with sinks.
Two convection ovens and two combi ovens for preparing meats and poultry are located across another aisle.
The other side of the room hosts a tabletop kettle, a 60-gallon steam kettle, a tilting skillet, an overshelf and a worktable. Behind this section are an undercounter blast chiller, a slicer and another worktable.
In addition, the kitchen includes many more work-tables, a 60-quart and 20-quart mixer, ingredient bins and a food cutter.
"For easy access, the potwashing section is positioned in between the production kitchen and Culinary Support Center," Webb says.
---
The Culinary Support Center
Adjacent to, but separate from the production kitchen, the Culinary Support Center includes cook-chill production equipment. This facility serves Segundo Dining Room and all other on-campus foodservices managed by Sodexho. Products prepared here include veggies, soups, sauces, meats and salad dressings. According to Brenan Connolly, the primary benefits of such a system are product consistency, controlled portions and costs, and labor savings. Units will requisition products from this area as needed.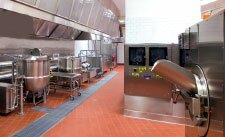 In the cook-chill portion of the Culinary Support Center food is placed in cook tanks at left, poured into bags that are vacuum-sealed and then cooled in a tumbler chiller at right.
Storage in this area includes walk-in coolers for meat, dairy and vegetables. It also has a deep-chill food bank for extended shelf life of cook-chill products and a staging cooker for products prepared for shipping.
Preparation equipment includes a vegetable washer, lettuce drier, a vertical cutter mixer, a 60-quart and 20-quart food mixer and several mobile worktables. Also in this area are a double-rack oven, a blast chiller and a digital portion scale.
Cook-chill E&S includes two 100-gallon kettles, a cook tank for meats, a pump/fill station, a vacuum sealer and a tumble chiller. "Enormous savings can be realized by using the cook tank, because product shrinkage is minimized," Jim Donahoe says. "Therefore, the cost of center-of-the-plate portions is less." In addition, he adds, the cook-chill process allows product shelf life of 15-to-20 days compared with two to three days using conventional coolers and even blast chillers.
"Throughout the kitchen and center, we placed an electrical utility raceway overhead," Donahoe explains. "This gives maximum flexibility to change and move equipment when needed. For example, one day a horizontal wrapping machine might be needed for retail sandwiches and it can be added easily."