Presentation Skills
Sweet, colorful and dazzling define beverage best sellers.
By Margaret Sheridan, Senior Editor

Cocktails and garnishes that catch the eye and the imagination are beverage sales stars.
For better beverage sales this year, think multihued cocktails; affordable wines by the bottle and by the glass; coffees laced with syrups and flavorings that coax customers to linger; and interesting varieties of hot tea that are served with pomp and flourish. To further bolster revenue, experts also advise investments in wine training and in creating alcohol-free beverages that convey the excitement of signature cocktails.
Beverages generate 20% of average unit sales at Dallas-based T.G.I. Friday's, where the Ultimate Margarita—with lemon/lime garnish, citrus juices and aged tequila—ranks as best-selling cocktail. Long Island iced tea and martinis follow in popularity, says Stewart Slocum, director of national beverage marketing, research and development. Limited-time offerings—such as Strawberry Lemonade in spring and Red Appletini in winter—always sell well.
At Champps Restaurant & Bar locations, margaritas, martinis and draft beers are strong sellers, says Tim Johnson, director of purchasing and beverage operations for the 63-unit, Littleton, Colo.-based chain. Beverages represent 28% of average unit sales, with beer accounting for 54% of beverage revenues, spirits for 36% and wine 10%.
---
19.5 million
Number of 9-liter cases of rum sold in the United States in 2003, a 5.1% increase over 2002. Sales of tequila fared even better, rising 6.4% in 2003.
(Adams Beverage Group)
---
Prices for margaritas start at $4.50 for the house variety and jump to $12 for a hand-shaken cocktail with premium tequila, imported orange liqueur and freshly squeezed lime juice. Vodka dominates the martini category at 95% of sales, with the vodka-based cosmopolitan a Champps top seller. Customers are attracted to the drinks' "eye-stopping presentation, sweet taste and color,'' Johnson says.
The chain anticipates 5% growth in wine sales this year thanks to improved wine training and a new pricing policy. Servers will inform guests who order wine by the glass that Champps prices bottles at only three times the single-serving rate. "When the customer hears the cost savings, that usually sells the bottle,'' Johnson says. New to the wine list is Johannisberg Riesling, a German white wine that complements Champps' menu.
The concept isn't neglecting beer, its core beverage. Champps is investing up to $12,000 per unit to install a state-of-the-art beer delivery system that will provide consistent temperature control and ensure product freshness.
Great Grapes
Wine outsells spirits and beer at five-unit, Dallas-based steakhouse chain Fogo de Cho. This year it introduces quentao, a hot wine drink popular in Brazil during the winter. Blending red wine (similar to merlot), cachaça (sugar-cane liqueur), sugar, lemon juice, cinnamon and cloves, the drink, served in a 12-ounce glass, sells for $9.75. "Brazilians order it to finish the meal. It's sweet and powerful,'' says Sidiclei Demartini, general manager of the Chicago unit.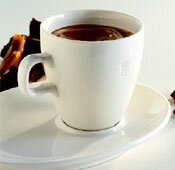 Starbucks' new chocolate drink, Chantico, will be promoted as an afternoon- or evening-break beverage.
Wine sales eclipsed spirits four years ago at Cool River Cafe, where alcoholic beverages represent 38 of sales. The three-unit concept operated by Dallas-based Consolidated Restaurant Operations (CRO) invested heavily in server training in 2001. The result was a turnaround in wine sales, says Nick Garvey, CRO president of steakhouse operations. "Cost is higher on wines, but margins are better,'' he says.
Best sellers among white wines are chardonnay and pinot grigio while cabernet sauvignon and merlot top the reds. "The thing about wine is you can teach customers about it," says Garvey. "Start guests with a glass for $6, then upgrade them as they learn more.''
Wine accounts for 70% of beverage sales at Olive Garden. "It goes with the food and [the concept's] Italian heritage,'' says Michelle Kern, manager of beverage operations and education for Orlando-based parent Darden Restaurants. But the chain continually evaluates other beverage categories for growth opportunities.
The chain developed 15 core cocktails, including several using granita (crushed ice spiked with flavored vodkas) that are served in stately 16-ounce glasses. Presentation matters, says Kern. "It provides the customer with something different, a small indulgence.'' That mindset explains the appeal of wine-based cocktails such as the Bellini (seasonal fruit purée topped with Italian sparkling wine) and ice cream-based drinks such as the popular Tiramisu (coffee and almond liqueurs with ice cream).
---
39.5%
Red wines' share of retail wine sales in 2003, versus 25% in 1995. White wine accounted for 40.2% in 2003, 41% in 1995. Red's growth has come at the expense of blush wines, which have declined in share.
(The Wine Institute/ACNielsen)
---
Olive Garden also sees opportunity in alcohol-free drinks for adults and teens. "It's a way to increase sales at lunch when many customers don't order alcohol,'' says Kern. Ideas come from children's drink offerings, including milk (whole and 2%) and Italian sodas in eight flavors. Made with imported syrups, alcohol-free choices include raspberry, vanilla, orange, hazelnut, almond and lemon beverages.
Following the same thinking, Dallas-based T.G.I. Friday's this year will introduce a line of alcohol-free drinks.
Hotter Chocolate
"Slow down and linger" is the winter message from Seattle-based Starbucks, which this month introduces hot chocolate that seeks to revive the European chocolate-house tradition. Called Chantico, after an Aztec goddess of hearth and home, the steamed-milk drink with cocoa power is served in a 6-ounce ceramic mug with rolled butter cookie. It will be offered afternoons and evenings and is priced between $2.65 and $2.95, depending on location.
NoMI Lounge in the Park Hyatt Chicago banks on winter temperatures to attract customers for hot chocolate in the afternoon or evening. Its classic hot milk drink developed by Executive Chef Sandro Gamba uses imported chocolate. Also available are ultra-rich alcoholic versions poured over chocolate truffles in a stemmed glass.
---
Milk Money
When Olive Garden added 2% milk to its kids menu last June, adults loved it too, says Michelle Kern, manager of beverage operations and education for the Orlando-based concept. "They wanted it for their coffee instead of whole milk,'' she says.

The chain will expand drink options with flavored milk and ingredients such as syrups, seltzer water and sodas. There's potential appeal with teens, Kern says, "and with the lunch crowd that doesn't want alcohol.''
Oak Brook, Ill.-based McDonald's (right) long has menued milk, but it and Dublin, Ohio-based Wendy's saw sales spike last year when they began offering regular and flavored milk in 8-ounce plastic containers. Wendy's reported a 15-fold increase, to more than a million units a week, while McDonald's milk sales doubled after the switch.
To encourage kids to be healthy away from home, 53% of parents say they would go to a restaurant that promotes milk as an option, according to survey of 600 parents by Stamford, Conn.-based Insight Express.