From the May 1 issue:


2006 Ivy Awards


The Ten-Minute Manager's Guide to...Food Festivals


Four Stars: The Toast of Italy--Bruschetta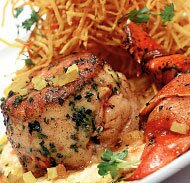 Search by daypart, menupart, or region; or simply enter your own search term. View today's most popular recipes.
Find a new recipe....


This year's annual ranking of the nation's Top 100 Independent Restaurants includes links to menus, as well as facts, figures and insights into the secrets of their success.


Restaurants & Institutions has announced the winners of the 2006 Ivy Awards, given annually to foodservice operations that demonstrate the highest standards of excellence in food, service and overall hospitality.
Meet the Winners....
Web-exclusive 2006 Ivy Recipes....
For Tickets and Sponsorship Information....



R&I has been named "Magazine of the Year" by the ASBPE (American Society of Business Publication Editors). Judges cited the publication's elegance, consistency, excellent writing, and user friendliness. R&I also received a Gold award for the best publication redesign. A total of nine awards were awarded to R&I: five for editorial and four for art!
See what all the fuss is about:
click here to request a free subscription....


Restaurants & Institutions (R&I) is the leading source of food and business-trend information and exclusive research on operators and restaurant patrons. Editorial coverage spans the entire foodservice industry, including chains, independent restaurants, hotels and institutions.
Request a free subscription to R&I magazine; the digital edition; or Newsbites, the daily e-newsletter.