The Chronicles of the Queen of Burritos
Follow California Tortilla founder Pam Felix as she expands her concept.
Feb. 27, 2006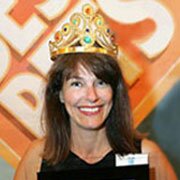 Pam Felix, Founder
California Tortilla
I'm back! Did you miss me? (More importantly, do you even know I exist?) I'm going to veer from our regularly scheduled programming and talk to you about something that's happening to California Tortilla as we speak.
We've just changed our food and paper distributor. While on the surface that doesn't seem like a very big deal, trust me, it is. The vendor we were using (Vendor X, if you will) initially did a great job for us; it delivered food to all 17 of our stores in a timely manner, at a good price and with relatively few problems. Unfortunately, that all changed when it took on a huge account that it wasn't equipped to handle; in its quest to deal with that account's needs, Vendor X let our service fall by the wayside. Consequently, we were forced to find a new distributor.
So how's the change going, you ask? (Pretend you did.) Well, it's going very well, so far. Our initial fears that Vendor X would stop servicing our account once we gave our 30-day notice were, fortunately, unfounded--it actually serviced us better than it had in months.
In the meantime, the new company has been great. We're now a big fish in small pond, and we like it that way. We feel like our business is important to our new distributor, and the company has really gone out of its way to make the transition go smoothly. Case in point: On the first day of the changeover, at least one senior-management member from the new distribution company met the delivery truck at every one of our stores and went over the delivery with our on-site manager. That's a service that we would never get from Vendor X, and one that gave us confidence that our account matters.
But there have been a few bumps in the road: Their computer system isn't compatible with our reporting system, there have been some product-spec issues (we got skin on chicken breasts recently--yikes!) and we've had a few inventory snafus. They're diligently working on these problems, however, and we feel certain that they'll be fixed quickly.
With that said, there are problems with the changeover that we didn't foresee. Who's responsible for product that the new distribution company bought from Vendor X that, unbeknownst to the new distributor, had gone bad? As you can imagine, Vendor X isn't rushing to reimburse it. Vendor X also ran into financial difficulties and didn't pay some of our food suppliers. Now what? Will Vendor X pay them? And what if they don't?
Hopefully, I'll soon have answers to these questions that I can share with you. In the meantime, you have no idea how much I wish I could go back to just being a spunky cashier.
For more scoop on California Tortilla, go to www.californiatortilla.com. Don't forget to read our newsletter, Taco Talk, for the latest in the burrito world. To get in touch with me, Pam, Queen of Burritos, e-mail me at .