The Chronicles of the Queen of Burritos
California Tortilla thought long and hard before deciding to franchise.
May 19, 2006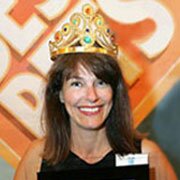 Pam Felix, Founder
California Tortilla
Hi. Pam again. California Tortilla. Queen of Burritos. Last week I talked about how we systematize our goofiness--the thing that made us so successful from the start. Since writing that, someone asked why my partner, Alan, and I, if we were so successful with our first three stores, decided to take on franchising partners--people who essentially own a majority of the company? Why didn't we just do it ourselves?
Well, it's a pretty obvious answer (to me anyway): We were lazy. We had three great restaurants going, and we'd been working in the restaurant business for a thousand years--we just didn't have the desire to put in those long hours anymore and start what would essentially be a new business from scratch. We figured that it was the end of the road for us in terms of California Tortilla, and we were fine with that. Because even if we did want to franchise on our own, who knew if we were capable of it? (Unfortunately, an exceptional ability to chase down customers with a Pop Tart is not generally what franchisees are looking for in their franchisors.)
A lot of people came to us over the years who wanted to franchise California Tortilla. Each and every time we said no; nobody was quite right. They all wanted to open a million California Tortillas (looking back, that probably wasn't such a bad goal), but nobody really appreciated what it was that made California Tortilla so special. Every time they talked about California Tortilla, it was always about numbers, never about passion. And we knew that whoever started franchising our concept had to be passionate about California Tortilla. (Every time I read back something I wrote about us, we sound kind of annoying.)
And then Bob Phillips and Keith Goldman came along. They were customers, they loved California Tortilla, and they totally understood why California Tortilla was so successful. And just as importantly, they had also been franchisees of several restaurants and knew what it took to run a good franchise. They had both sides of the equation: They were passionate and had experience. And they laughed at our jokes. Because honestly, Alan and I were in it for the fun even more than the money; it was unbelievably important to us that we liked our partners on a personal level.
Do we always agree with Bob and Keith? No. (Wouldn't it be shocking if we did?) But we do most of the time, and that's what's important. They've done a phenomenal job franchising California Tortilla, and we have all the faith in the world that it's going to be one of the smartest decisions we've ever made.
Next week: the challenges of running a company with all chiefs.
For more scoop on California Tortilla, go to www.californiatortilla.com. Don't forget to read our newsletter, Taco Talk, for the latest in the burrito world. To get in touch with me, Pam, Queen of Burritos, e-mail me at .