Hawaii To Go
L&L Hawaiian Barbecue invades the mainland with large portions, affordable prices and the Aloha mystique.
Hawaiian staples like kalua pig, chicken katsu and lau lau may not be familiar in the continental United States just yet, but they soon will be, if Eddie Flores Jr. and Johnson Kam have their way. The owners of Honolulu-based L&L Hawaiian Barbecue predict that it's only a matter of time before those Hawaiian dishes and others become part of the American fast-food lexicon when they open more than 100 units in two years.


President and CEO Eddie Flores Jr. (l.) and Chairman Johnson Kam plan to open at least 52 units of L&L Hawaiian Barbecue this year in the continental United States.
With large portions and affordable prices, L&L serves a meal known in Hawaii as plate lunch that reflects the state's multiethnic population including Japanese, Filipino, Chinese, Korean and Pacific Islander. A plate lunch consists of two scoops of rice, a scoop of macaroni salad, and chicken, ribs or seafood.
Everything is cooked to order. Best sellers include the Chicken Katsu, $3.95 mini, $5.95 regular, chicken breaded with panko crumbs, cut into strips and served with L&L's special dipping sauce; Barbecue Mix, $6.95, Hawaiian barbecue beef, short ribs and chicken; Lau Lau, $6.50, pork wrapped in taro leaves and steamed; and Spam Musubi, $1.59, a block of white rice topped with Spam and wrapped with nori.
L&L franchisees operate 100 units in Hawaii, California, Nevada, Arizona, Colorado and Washington, and are opening at least 52 units in current markets while breaking into Illinois, Michigan and New York this year. The all-franchised QSR is scouting sites in Washington, D.C., Boston, Atlanta and Florida for the 52 units it expects franchisees to open in 2005.
SNAPSHOT
Concept
L&L Hawaiian Barbecue
Headquarters
Honolulu
Units
100
2003 Systemwide Sales
$42 million
2004 Systemwide Sales
$55 million (company estimate)
Average Unit Volume
$600,000
Seats
270 inside, 60 outside
Average Check
$7 to $8
Expansion Plans
At least 52 in 2004, 52 in 2005
Testing the Waters
L&L had grown slowly up to now. After saturating Hawaii with almost 50 units from 1976 to 1999, it spread to the mainland. Opening five to 10 units a year, franchisees entered markets such as San Diego, Las Vegas and Lynwood, Wash., where there was a large population of Hawaiian transplants. They set up shop in large shopping centers and strip malls.
With more land available, cheaper rent and food costs, and no strong plate-lunch competition, the chain grew to 84 units by 2003, generating $42 million in sales. Unit volumes average $600,000, with mainland stores tracking 20 percent to 30 percent higher than units in Hawaii.
"When we started going to the West Coast, we said, 'Wow. This is like a gold mine,'" says Flores recalls. "It's like a kid in a candy store. You take all you want, and there's no competitor."
The accelerated expansion of opening one unit a week has prompted the company to reformulate its growth strategy. As it expands beyond the West into communities that lack Hawaii expatriates, L&L is considering sites near successful Asian restaurants; in diverse, urban areas; and near colleges. This fall, franchisees will open in Champaign, Ill., near the University of Illinois; Lansing, Mich., near Michigan State University; and Manhattan near Times Square.
Growth Factor
Franchisee Ben Gudoy considers L&L's growth outside its base a calculated risk that can work. "I think outside the West Coast, they're still watching where they go," says Gudoy, who owns two units in San Diego and one in Fresno, Calif. "I don't think anyone wants to open up in Iowa any time soon."


Because lau lau, shredded pork steamed in taro leaves, is widely available in Hawaii, L&L offers it only on the mainland.
However, Howard Seftel, restaurant critic for The Arizona Republic newspaper, is doubtful about the chain's success outside the West. Seftel gave a positive review of the Mesa, Ariz., store in July. But he says the average fast-food customer is not adventurous or sophisticated enough to try such unfamiliar fare. "I think it has real possibilities as a niche fast-food place in the right places," Seftel says. "Do I see them with thousands of L&Ls all over the country? No. The masses of fast-food eaters will never forsake their burgers and Chinese food and Italian food and Mexican food for this. I think [L&L] can do well in the right locations, but I don't think they can indiscriminately open up all over the country."
Flores argues that the chain's affordable prices and the popularity of Asian food give L&L an edge. "I'm not sure the concept would have worked 20 years ago because a lot of Americans were not eating [Asian fare] at that time," he explains. "In the last 10 to 15 years, the United States has become globalized. They're eating rice a lot more, sushi and so on."
"What we're selling there is Hawaii," adds Eva Kam, director of operations. "Everyone loves Hawaii, especially in the Midwest and in the East Coast. When they think of Hawaii, they think of paradise, right? We are in the business of selling Aloha, selling the Aloha spirit, selling Hawaii. And our food is part of that."
Quality Control
To ensure success beyond the West, L&L is modifying its franchise system. Previously, L&L maintained a hands-off approach. Because most of the franchisees had been unit cooks or managers, they were familiar with the operations. The company would assist with site selection, send a crew of managers and cooks to help with the opening, and hand them an operations manual. So food and decor was inconsistent among units. Yet Flores says the inconsistency gave the units a mom-and-pop feel that customers appreciated.


Director of Operations Eva Kam is looking into setting up a central commissary and outsourcing the cutting of chicken to improve L&L's consistency and quality.
As the chain gets bigger and accepts new franchisees unfamiliar with the system, however, the company realized that it must implement new operational and training systems to protect the brand's reputation.
"For us the name is everything. That's the reason we pay the franchise fee," says franchisee Jason Ye, who will open the first New York unit in October. "If the name is no good and people don't like the concept and don't like the food, there's no reason for us to join the franchise."
New franchisees now train at corporate headquarters for two weeks. They learn cooking techniques from Executive Chef Raymond Cheng, meet vendors and experience the Hawaiian culture, including attending a luau. In addition, franchisees train for one to two months at units in California and Nevada, working all positions in the store.
Because all food is prepared in the units, prep work can get labor intensive. To ease the burden, franchisees now purchase premade sauces, marinades and lau lau. Corporate is looking at precut chicken, locating a single source for meat and setting up a central commissary.


The typical plate lunch consists of two scoops of rice, a scoop of macaroni salad and a protein such as chicken katsu, which is chicken breaded with panko.
New franchisees must also use a new decor package. Averaging 1,500 square feet to 2,000 square feet on the mainland and 1,000 to 1,200 square feet in Hawaii, the newer units play up the Hawaiian theme with yellow and orange walls with blue accents, stainless-steel counters wrapped in bamboo, surfboards, and photos of Hawaii and hula dancers.
L&L plans to send someone from the corporate office every quarter to inspect the units for quality, consistency and service.
This year L&L established a Franchise Advisory Council, made up of representatives elected by the franchisees. The council meets quarterly to discuss issues such as advertising and how to improve store sales. The company also holds franchise conferences twice a year.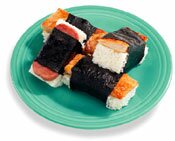 L&L's musubi wraps a block of rice topped with Spam, chicken katsu or barbecue chicken in nori.
International Exposure
Although the chain has just begun its push eastward, L&L isn't limiting itself to the United States. The company is fielding franchising inquiries from Guam, Japan, American Samoa and China. However, Flores is cautious about expanding too quickly. "I could easily sell 100 franchises per year if I wanted to," he says. "But I won't because our infrastructure is not ready." Yet that hasn't stopped him from predicting that plate lunches will be as common as hamburgers and hot dogs.
"When I first started, I told myself, if I have 30 restaurants, I'll be happy. And right now it has exceeded my expectations," Flores says. "I have no doubt that in the next five to 10 years there will be 500 to 1,000 L&L Hawaiian Barbecues spread out all over the country."