Full Speed Ahead
New and existing technologies speed service at the drive-thru and takeout counter.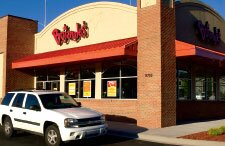 Drive-thru timers have helped Bojangles' increase store volumes by one percentage point.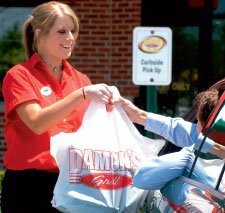 On weekends, Damon's Grill dedicates an employee to handling curbside service.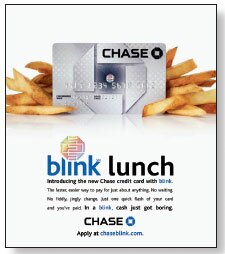 Chase Bank's Denver advertising is helping to drive credit-card transactions at local Arby's.
Bojangles' President Tom Lewison has worked in quick service for more than 30 years, and from his point of view, nothing can make a drive-thru more efficient than a good service support system. "That's the root of speed at the drive-thru," he says.
That said, many chains, including Charlotte, N.C.-based Bojangles', have installed speed-inducing technology at drive-thrus and takeout counters.
Mere seconds make a difference, says Mark Godward, president of Strategic Restaurant Engineering, a Miami-based foodservice consulting firm. "If you can cut your window time from 45 seconds to 42 seconds, you're increasing throughput by 10 percent," Godward points out.
That three seconds might not mean much to a customer, but to a unit handling 70 cars an hour, it can mean an extra seven cars per hour, Godward explains: "That's a big deal for an operator."
Mid-Tech, High Results
Technology doesn't have to be Jetson-esque or expensive to be effective. When Damon's Grill, the Columbus, Ohio-based rib chain, rolled out curbside service to 80 of its 115 restaurants in March, it discovered that a mid-tech combination of cameras and sensors works just fine.
Adjustments needed at each restaurant depended on its design, says Shannon Foust, president of Damon's. Some stores only needed cameras to alert staffers when cars pull up to the curbside; others required a door and window so staffers could see the dedicated parking spots.
The initial investment was low: "The cameras are not that expensive, maybe $100," Foust says. "We're spending more money on training than equipment." Training focuses on the importance of speed for curbside customers. On weekends, stores dedicate a staff person to delivering orders to curbside customers.
Before Damon's curbside program, takeout accounted for 7 percent to 8 percent of sales, Foust says. Curbside service has boosted that total to 10 percent to 12 percent, all incremental sales that add about $100,000 to unit volumes. Check averages for dine-in and takeout are about $16.
Curbside has resulted in an interesting sales shift: Damon's ribs account for a higher percentage of the takeout mix than they do the dine-in mix. "We have a product that carries very well," Foust says.
With further technological advancements—Damon's is investigating the possibility of swipeless credit-card payment—curbside could account for 15 percent to 20 percent of sales, Foust says.
Look, Ma, No Hands
Foust might want to talk to Rob Williams, controller at The Bailey Company, the Denver-based Arby's franchisee. Late this summer The Bailey Company installed swipeless credit-card machines in 45 of its 67 restaurants in a major test that Williams calls "seamless."
"There was no learning curve for the staff; there were no glitches," he says.
The Bailey Company spent $300 to $500 per store to install new credit-card readers; the higher price was for readers requiring weatherproof casing. The stores also had to install new software in their credit-card acceptance machinery to accept the swipeless cards, which are installed with an RFID chip. RFID, or radio frequency identification, enables the chip to send and receive information, in this instance payment information to the bank. Use of the technology is limited to customers who carry the swipeless card, a Chase Bank product called blink.
Chase is heavily marketing the blink cards with a series of ads in Denver; some mention Arby's. "They're doing all the promotion and advertising for us," Williams says.
Test results show that drive-thru transactions using the swipeless card are five to seven seconds quicker than with a traditional card, and that carryout transactions are three to five seconds quicker.
Williams says credit-card purchases are 15 seconds faster than cash in the drive-thru and 10 seconds faster at the counter. Guests using credit cards spend an average of $11, vs. $7.50 for cash customers.
The swipeless technology could boost credit-card transactions to 25 percent this year, compared to 20 percent in years past, Williams says. "By the end of 2006, we'll be close to 50 percent," he adds.
Red Light, Green Light
Bojangles' drive-thru has always been busy, accounting for about 59 percent of sales. After the chain added timing devices to the drive-thrus of its 350 stores, "We're now north of 60 percent," Lewison says.
Lewison admits that the chain is late in adapting the timers, which alert the kitchen that a car is at the drive-thru and then time the wait at the ordering station and the pick-up window. A readout in the kitchen can be programmed with incentives such as a green "fantastic" for a quick job or a yellow "let's hurry." The readouts make it "more fun" to motivate the kitchen, Lewison says.
Installation per store cost between $2,000 and $2,500. Given unit volumes of $1.35 million and the 1 percent hike in volume, "That's a pretty quick return on investment," Lewison says.
Since Bojangles installed the timers a year ago, drive-thru times have dropped by 20 seconds, to 120 at breakfast and 150 at lunch. Check averages have risen 20 cents, thanks to a new credit-card system, and same-store sales were up 8 percent through July. "Improving the drive-thru keeps us on the playing field," Lewison says. "It's a basic expectation of the guest."
Bojangles' is investigating drive-thru enhancements including a translight menu board that will be easier to change and that will steer customers to core menu items. Still, Lewison maintains that it's not the technology that counts, but the service behind it.
"Great food fast with a smile, you win," he says. "And if service supports it, you really win."
FINGERTIP FINANCES
When it's time to pay, customers at two Jersey Mike's restaurants in Rock Hill, N.C., don't whip out cash or a credit card. They give the staff the finger.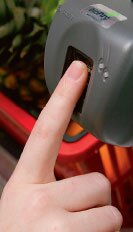 That is, they press their index finger on an electronic reader and enter a personal identification number. The reader matches the fingerprint and PIN to the customer, and then debits the amount from that customer's checking account.
The system, called Biopay, is "a nice alternative to checks," says Bob Katz, franchisee for the two restaurants and a third Jersey Mike's in Fort Mill, S.C. For Katz, the Biopay system costs 10 percent less per transaction than the bank fees associated with a credit-card purchase. Biopay customers, like credit-card customers, spend 10 percent to 15 percent more on their meals than do cash customers.
Because Katz's stores are among the first to use the technology, Herndon, Va.-based Biopay paid for installation, which would have cost $700 to $1,000 per store, Katz estimates.
However operationally friendly, Biopay has yet to catch on with customers. Katz says only about two dozen customers have registered for the service so far, but that number might spike when retailers near the Jersey Mike's stores begin offering Biopay.
Or it might not. "Customers either like it or are leery of it," Katz says.