Hall of Fame Inductee
Straight Shooter: Howard Fishman, S.S. Kemp & Co.
A distinguished industry career marked by an honest, direct approach to doing business, a well-thought out and executed succession plan and an uncompromising passion for dealer-based distribution earned S.S. Kemp's Howard Fishman the fourth spot in FE&S' Hall of Fame.


Howard Fishman, S.S. Kemp & Co.
Photos by Peter Renerts
With Howard Fishman, what you see is what you get. For some people, comments like that may not be viewed favorably. But with FE&S' 2006 Hall of Famer, this comment suits him quite nicely. That's because when you look at Howard Fishman what you see is a hard-working, fair and unflinchingly honest businessman and family man. And that is just as he would have you see it.
Since entering the foodservice industry in 1954, Fishman continues to leverage these virtues to keep himself and his company on a straight and narrow path to success.
In the Beginning
Howard Fishman was born in New York City and at age 16 he graduated from high school. By the time he turned 20, Fishman had earned a bachelor's degree from Ohio University in Athens. During his school days, Fishman met a co-ed by the name of Pearl Schwartz from Cleveland, whom he would later marry.
After college, Fishman joined his family, which had relocated to Miami. While in Miami, he earned his real estate license. With the Selective Service Act still in full effect due to the Korean War, he was also required to pull a tour of duty in the military, thus ending his real estate career before it really got off the ground. To fulfill his duty, Fishman enlisted in the Coast Guard and its Officer's Candidate School. Upon graduation from OCS, he became an ensign and his new duties required him to be out at sea one month at a time. During their stints at sea, Fishman and his fellow crew would perform search and rescue missions and serve on the radar monitoring line, which gathered flight information and other data from planes approaching the mainland. "It was a great experience," he recalls.
While he was in the Coast Guard, the Korean conflict came to an end and Congress started to scale back the U.S. military's might. This opened the door for an early and honorable discharge from the Coast Guard for Fishman, who then continued his service as a reservist. Immediately thereafter, in 1954, Fishman broke into the foodservice industry when he became a partner in S&S Sales Co., a Cleveland-based dealership owned by a family member. (The dealership would later change its name to Foodservice Equipment Inc.)
Over the next 25 years with this dealership that started out as a two-man outfit, Fishman emerged as a jack-of-all-trades, which means his responsibilities covered everything from purchasing to scheduling jobs to managing the receivables and deliveries to sales. And because this was prior to the dawn of the information age, Fishman had to do much of the clerical work manually, which meant pouring over customer records to determine what needed to be ordered when. "You did what had to be done," he humbly submits.
But during his time there, Fishman developed an itch to do a little bit more with his career. "A lot of what I was doing was productive but it was not as productive as it could have been," he says.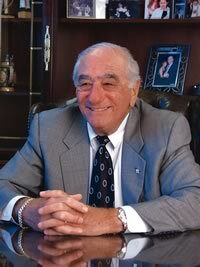 "If you deal with a manager of a restaurant and keep him from making costly mistakes and supply him with what he needs, he will be your friend. Service is always more important than price."
- Howard Fishman
Opportunity Knocks
In 1978, Fishman seized the opportunity to run his own show by purchasing S.S. Kemp & Co., a longtime Cleveland dealership that held a solid, but somewhat crumbling reputation. "It was absentee ownership and management," Fishman says. "They had a guy who used to be in the mortgage business running it. He really did not know foodservice."
Despite the declining reputation, the dealership still had its strong points. "We had some good, good people and some of the older salesmen really owned their customers," Fishman says. "They really knew what they were doing and would not allow a customer to make a mistake. If the customer wanted to buy something that the salesman did not think was a good fit for their operation, they would not sell it to them."
When he bought the company, Fishman certainly had a few anxious moments. "When you have your last nickel into it, sure you get nervous," he says. "But I had a lot of confidence we could do it."
One reason for being cautiously optimistic was that Fishman felt his knowledge of the industry would result in a minimal learning curve and he had some ideas and a vision that would be effective. "I thought this was a fun industry and still do," he says.
Fishman's plan was a simple one. Listen to customers and carry the inventory they want. Operate the company from a sound financial basis, which basically means pay your bills and discount them. And leverage industry associations to broaden his professional perspective through knowledge and advice.
In addition, Fishman felt he had a solid personal reputation with many restaurant operators in Cleveland and could lure lots of former customers to his new venture. "It was terrific," he says. "I almost get emotional when I think about the fact that someone would put their trust about their business into my hands.
"We are straight arrows, right down the line," he adds. "We would never sock it to a customer. And the people realized we were just doing business like they were."
His straightforward style of doing business earned Fishman and S.S. Kemp the respect of not only the operator community. "We had great rapport with the contractors, foremen, etc.," he says.
When Fishman purchased the company, S.S. Kemp had 28 employees situated in a rented facility and was posting annual sales of $2.7 million. The dealership was buoyed by a couple of bigger customers, including one multi-unit operator that had stores throughout the country. This client would help S.S. Kemp get into the business of serving chains because it made the dealer learn how to get product to an operator outside of the dealer's primary geographic market.
In addition, it was at this time that Fishman and the dealership's other salespeople built one-on-one relationships with the individuals who worked at its client locations by making sure they were ordering the right products. "If you deal with a manager of a restaurant and keep him from making costly mistakes and supply him with what he needs, he will be your friend," Fishman says. "Service is always more important than price."
Growing the Business
When Fishman purchased S.S. Kemp, he looked at the market for larger institutional feeders such as hospitals, nursing homes and schools and identified them as representing significant growth opportunities. "We pushed getting into these bigger jobs," he says. "It is obvious that when you go from having some guys on the street to having a planned program with the hospitals, you grow. And the more you did, the better it was. The better it was, the more you did."
As Cleveland's burgeoning healthcare market started to blossom for S.S. Kemp, the company's traditional customer base began to shake off the effects of a sluggish economy. For example, Fishman recalls receiving a phone call from a local caterer who needed to purchase 35 cases of champagne glasses immediately. This call came from a prospective customer that Fishman had been courting, but that's not what struck him most about the conversation.
"The question he posed was not one of how much will it cost but do you have them," Fishman recalls. So, Fishman answered his client's question by asking why the caterer was suddenly willing to do business with S.S. Kemp? The customer responded because no other dealer in town had the inventory to meet his needs.
This happened during a time when interest rates were 20 percent or higher, which made maintaining large inventories cost-prohibitive for most dealers. But Fishman trusted a gut instinct and went the opposite way. "So, we decided to load up on the commodity items," he says.
As a result, this move turned out to be a fortuitous one for S.S. Kemp, which saw its replacement business start to grow and, along with it, a simple solution to financing emerged. "We were turning it so fast that we did not have to worry about paying for it because the cash flow took care of it," Fishman says. "I was fortunate to recognize the opportunity that was there and to be able to take advantage of it. Some guys were cutting back their inventory at that time."
Points of Differentiation
In a mature industry such as equipment and supplies, it's very easy to fall into a commodity trap of trying to provide products for the lowest possible price. But the fact remains that someone out there will always find a way to come in at a lower price, ultimately lowering the value of the distribution chain.
"I don't think we could exist in a strictly commodity market," Fishman says. "A dealer has to get compensated for what he does and that can't happen in a commodity market.
"We need to differentiate ourselves," Fishman adds.
To that end, under Fishman's leadership, S.S. Kemp used the following four basic principals to differentiate the dealership from the competition:
Quality of People — "We always tried to have top-notch people," Fishman says. Typically, they were educated, well-trained and got along with one another.
Technology — This includes using bar codes and other technology to better manage inventory and being a true industry pioneer in the use of CAD.
Service — The notion of providing value-added service to your customers is a bit of a cliché, Fishman says, but true. "You have to offer something the other guy can't."
Honesty — Fishman has a reputation for being an honest and straightforward negotiator with his vendor partners. The same can also be said about his approach to dealing with customers. "You have to let them know when you think they are doing the right or wrong thing," he says. "They have to understand that you are interested in their being successful and they have to know that you are there for them."
And how Fishman personally illustrates that last point varies. "It's not beneath me to take an order in my car and drop it off on my way home," he says. "But that's the way our company operates.
"It's not just the money. It's a business. It's a relationship," he continues. "You put everything you have into it."
But just because he is giving it his all, so to speak, does not mean Fishman wants to win at all costs. "Everyone is in this business to make money but we want to be fair and to give everyone a chance to make a buck," he adds. "So, we are not looking to get every penny out of every deal. Also, we don't want to get involved with someone who will make mistakes that will cost them money because then they will start to cut corners."
To showcase the products they offer and to bring customers closer to these items, S.S. Kemp, led by Steven Fishman, the dealer's vice president and secretary, has invested in a showroom and test kitchen, during a time when many dealers have cut back on these areas. Howard sees it as a wise move that strengthens the dealer's relationships with its customers.
For example, if you sell an operator a piece of equipment that's not right for their business, "it's a no-win situation on everybody's part, specifically the customer because they are out of business," Fishman says.
The test kitchen is set up so that customers can experiment with various pieces of equipment to see if it will support their operation. "When they are done, they know whether they ought to buy it," Fishman says.


Following upon the completion of the succession plan in 1994, Mark Fishman (left) and Steven Fishman (right) assumed the roles of president and vice president. Howard Fishman (center) became S.S. Kemp's chairman of the board.
Tackling Technology
One area that Fishman seemingly embraced, despite having little experience in it, is that of information technology. Whether it was for S.S. Kemp or for the industry at-large, he could see the benefits of making investments in this emerging area, while others in the industry remained somewhat skeptical. "It seemed to be the coming thing," Fishman says.
For example, shortly after joining the company as treasurer and secretary, Fishman's son Mark approached him about updating the company's computer system for a mere $250,000. "He convinced me what we could do with it," Howard says. "We have changed time and time again but it's the core of any business. But now there's so much information readily available out there and we use it."
Another area of technology that caught Fishman's eye was that of Computer Aided Design, or CAD. Among the dealer community, S.S. Kemp was a true pioneer when it came to incorporating this capability into its operation. After learning about CAD and its potential benefits at a FEDA convention, S.S. Kemp became the first dealer in the industry to purchase such a system, Fishman says.
As S.S. Kemp incorporated CAD into its operations, the benefits became apparent rather quickly. Specifically, the drawings produced by these systems were more accurate and to scale than those done by hand. Plus, they were generated faster. Following a morning meeting with a client, S.S. Kemp could now turn over revised drawings some time after lunch as opposed to waiting more than a week, as was the case before.
This not only helped raise the dealer's profile in their clients' eyes by providing faster, more accurate service but also in the eyes of other service providers, too. "In many cases, the drawings we did for clients went to architects and consultants for their review and approval," Fishman says. "They were already using this technology, so it put us on the same plane as they were."
In addition, during his tenure as FEDA president, Fishman became a champion for another technological initiative that many seem to take for granted in this day and age: bar coding. While touring the operations of several dealers, Fishman got his first exposure to bar coding and its many benefits, such as the faster and more accurate transactions.
Since then, bar codes have become a standard for most dealers and manufacturers and S.S. Kemp has transitioned to the next generation. "Now, we are getting into wireless technology in our warehouse," he says.
Educational Exuberance
Fishman recalls attending his first buying group meeting. Not knowing what to expect, he recalls pausing in the doorway to the meeting room, turning to Pearl and saying, "It's Showtime!" From there, the couple went hand-in-hand meeting everyone in attendance. "I had never been to anything like it," Fishman says. "It benefited us not only through better pricing but also through the life-long friends we made."
That sparked a lifelong commitment to continuing his professional education. "We always did believe in it and we always will," Fishman says. "There is so much to learn in this business that you will never learn it all.
"I have never been to a meeting where I did not learn something that did not pay for the price of being there," Fishman adds. "You go back to your business and apply what you learned. It works."
As FEDA president, Fishman pushed for more educational opportunities. And it was during his tenure that the association began hosting its hallmark educational teleconferences. "Becoming better educated is the only way any company in our industry will grow," he says. "It is one thing if you are selling commodity items cheaper, but when you get into equipment that needs ventilation, gas, etc., they need to know what they are doing."


From the left, Mark Fishman, Howard Fishman and Steven Fishman share a lighter moment during one of the culinary competitions S.S. Kemp hosts in its test kitchen.
A Successful Succession Plan
In 1994, the E&S industry was in a period of transition, which got Fishman thinking about the future of S.S. Kemp. At the time, there was lots of merger and acquisition activity within the industry, so Fishman pulled aside his sons Mark, then the company's secretary and treasurer, and Steven, then the vice president of sales, to gauge their future plans and to determine which direction the company should take with respect to management and ownership.
Howard felt the company had two options. The first would be to sell the company eventually. The second option, which is the one they wound up selecting, kept the company within the family and had Mark and Steven assume a larger role in managing and growing it. "They decided to keep the company and grow it," Howard says.
Once this was decided, Howard began to formulate a succession plan. While the plan went through much iteration before the final one came to fruition, what ultimately happened was that Mark emerged as president and Steven as vice president and secretary. "They got their positions by assuming many of things I had done," he says. "And the company is now in a position where it has exceeded my expectations. They have accomplished enough so that they now stand on their own."
As for Howard, he became S.S. Kemp's answer to Frank Sinatra, which is a fancy way of saying he became the company's chairman of the board. And approximately four years ago, he started to pull back on his role within the company to the point where Mark and Steven run the business on a day-to-day basis, using Howard as a sounding board. In addition, Howard trains the new hires that handle bids, project work and the like. Howard also will make calls with salespeople or troubleshoot certain challenges that other associates may have. "They still give me a lot of respect due to my age and experience," he says of Mark and Steven.
Supplementing Mark and Steven's efforts as officers of the company, is their own unofficial street-level reconnaissance operative. When visiting various restaurants and other foodservice operations in the Cleveland area, Cathy Wallenstein, sister to Mark and Steven, regularly inquires about how the end-user sources the equipment and supplies. And on those occasions when the answer is not S.S. Kemp, she reports back to her brothers for follow-up.
With the succession plan complete, Fishman's role in the company may have changed but he feels Mark and Steven continue to build upon his principles of always being honest and fair with customers and vendors alike. "They are straighter than I am," Fishman says. "They are fair and not interested in taking advantage of anyone. Their ethics and morals are exemplary."
The other key to implementing a successful succession plan, according to Fishman, is making sure that the individual or individuals who will succeed you want to and are ready and able to do so. "Your successor needs to be able to put in the time and effort that it takes to be successful," Fishman says. "You also need to make sure the person is capable. After that, well, there are a lot of variables."
As Mark and Steven assumed greater leadership roles within the company, Howard did so within the industry by becoming FEDA president in 1995. In addition to championing educational and technological issues, Howard took on one more cause: untangling the lines of distribution.
"It was just a mess," Howard recalls. "You never knew who you were competing against or their pricing. You would talk to a customer about a piece of equipment and all of a sudden it was there. Where did it come from?"
For this reason, he began encouraging all manufacturers to commit their distribution policies to a written format. The rationale behind it was simple. "Tell me what you are doing so I can decide what to do," Fishman says. "If it was in writing, then everyone knew what to expect from that manufacturer."
Similarly, most people know what to expect when doing business with Howard Fishman: a fair and unflinchingly honest approach that will help all parties involved emerge successful. And that is just as he would have you see it.
---
A Pearl of a Partner

One of the most influential people in Howard Fishman's career was never on the company payroll. Yet this person stood shoulder to shoulder with Fishman and all of the decisions he made. That person is Pearl Fishman, his college sweetheart and wife of 54 years.
"She made the decision to go into this with me and that all of the sacrifices we would make would be joint," Fishman says of Pearl. "Many times we would talk out a situation or a problem. Her advice was essential to our having a successful business."
Howard describes Pearl as being vocal and someone who loves people. She may not have worked at the company, but she's been a part of it since the beginning, he says. When tapped, Pearl has fulfilled a variety of roles from collections manager to the HR manager. In fact, when Fishman bought S.S. Kemp, Pearl interviewed all 28 employees and wrote up the job descriptions for each. "It was extremely important because it made sure that people knew what their job was," Fishman says.
One legendary story about Pearl centers around collecting on a past-due invoice from a customer. In this case, a local bank was a little late in paying its invoice for some work S.S. Kemp had done for it. When Pearl reached a representative from the bank, they agreed to pay the invoice but balked at the finance charges that had come about as a result of their tardiness. Ever the tough negotiator, Pearl told the bank that the dealership, also a bank customer, would subsequently hold back interest payments to the bank if they did not pay the finance charges, too. Seeing things her way, the bank included the sum for the finance charges when they paid their bill.
But her biggest contributions may have been outside of the office. Just as Howard's vision and leadership propelled S.S. Kemp forward, Pearl did the same for the family. "She will not allow anything to go on in the family that will be disruptive," Fishman says. "As a result, we all work together in harmony."